Rustic warm woods, deep black metal accents, a warm and inviting feeling- these are just a few of our favorite things about modern farmhouse styling. And as much as our designers love farmhouse styling- we know that our readers and customers do too!  We continue to see more and more requests for farmhouse style living rooms, and who can blame them? These farmhouse living room ideas from influencers are soothing, breathtaking, and easy to recreate.
The modern farmhouse style decor is all about simplicity and warmth. Natural textures and materials like wood and steel take center stage. Beautiful and soft creams are the color of choice, paired with other neutral shades and bold hues across the decor with decorative accents. Farmhouse style is all about well-used, high-quality items that you want to highlight and celebrate.
So, whether you're trying to figure out how to decorate a farmhouse living room or merely looking for some fresh farmhouse living room ideas, keep reading to fall in love with some of our favorite styles from significant influencers.
Modern Farmhouse Style with @SBKliving
When it comes to the modern farmhouse look, it's all about neutral palettes, wood accents, and clean lines. One of our favorite influencers, @sbkliving, has an absolutely gorgeous modern farmhouse style with some industrial accents. We love how she adds bold elements like the Concrete Light from Lulu and Georgia to break up the plush pillows' softness and throws. It's the perfect contrast against the sofa, yet it pairs well with her bedroom door's industrial look and the lighting fixtures over the dining table.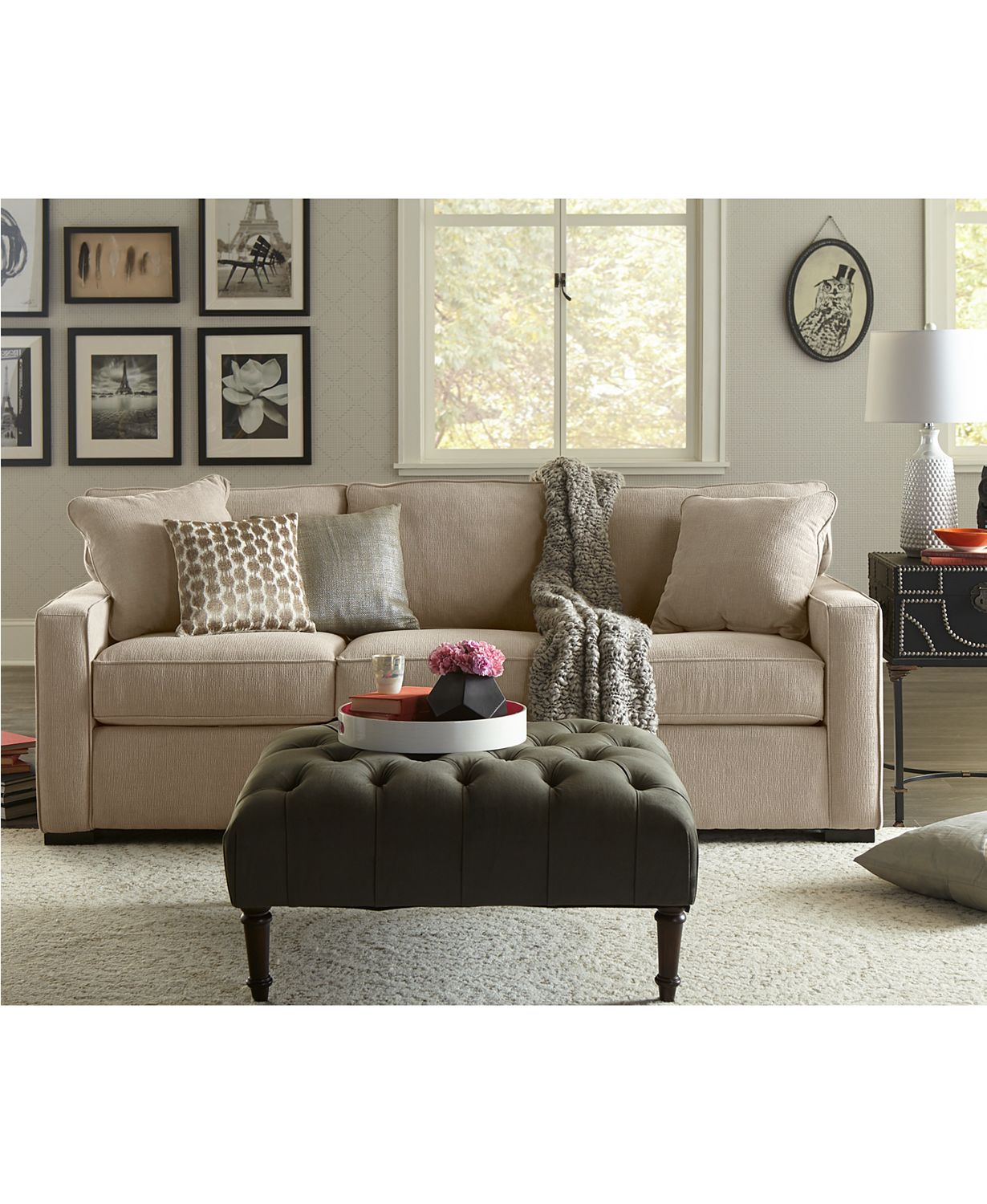 To nail this style, focus on adding in a classic sofa. For farmhouse living rooms, the sofas are often the focal point of the room.  To get a similar style, you can try this Radley 86″ Fabric Sofa, created for Macy's.  It's the perfect style to match your modern farmhouse living room decor. We love the minimalistic piece with a creamy textured upholstery that makes the space more inviting and warm. It's a great building block for textured pillows and warm rustic woods.
Simple Farmhouse Living Rooms with @Themodestfarmhouse
If you're looking for a relaxed and straightforward approach to farmhouse living room style, then you must follow @themodestfarmhouse. Denise's approach to design reflects a simplistic style that makes the room look bright and open. Her farmhouse living room is proof that a few elements can make a huge impact. Use her idea of a large area rug to frame the room. We love the Malaysia Handmade Tufted White Area Rug from Magnolia to recreate her room. By choosing such a large rug, she held the fireplace and the opposing sofa together, making the room look more cohesive and grounded.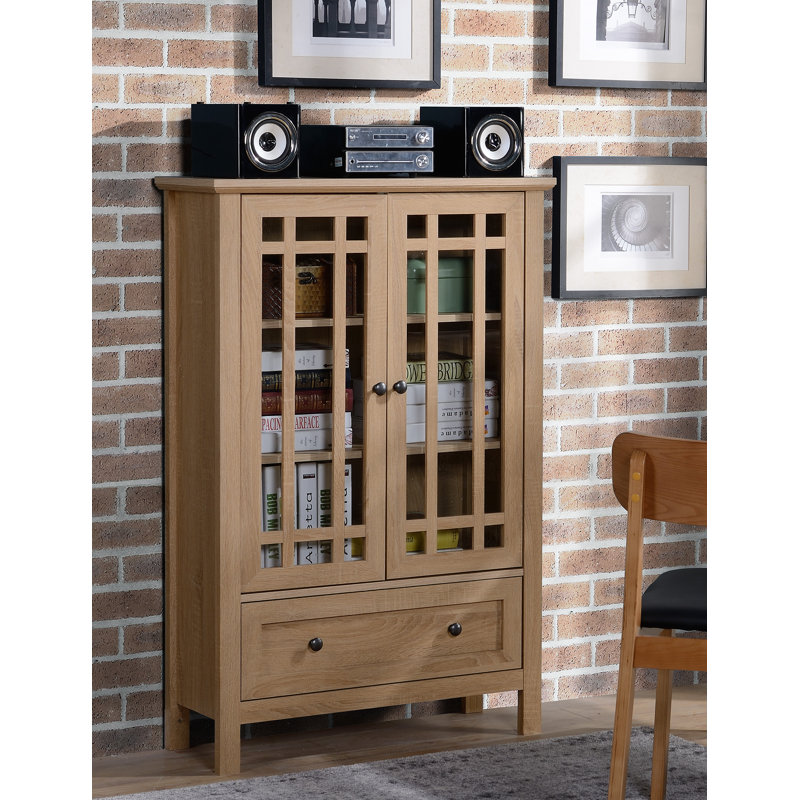 Using a natural wood cabinet like the Lockland 2 Door Accent Cabinet from Wayfair is the perfect way to complete your living room layout. It not only gives you a storage room, but it also serves as the ideal spot to display beautiful family heirlooms and your favorite dinnerware sets. If you choose a cabinet, consider picking one with distressed wood or distressed paint to get that traditional farmhouse style vibe.
Traditional Farmhouse Decor with @Blessedmilhouse
There's so much to draw inspiration from Chastity's clean farmhouse style living room. The best part about her approach to design is that everything is affordable. She gets inspiration through the seasons and is always updating her home decor. Plus, she loves a fun DIY to make decor accents even more special. The Lorraine Coffee Table from Pottery Barn is the perfect center of attention for this neutral-colored living room. You can tell that the size is just perfect for allowing for walking space in between the furniture. However, its solid base makes this coffee table appear grounding and sticking.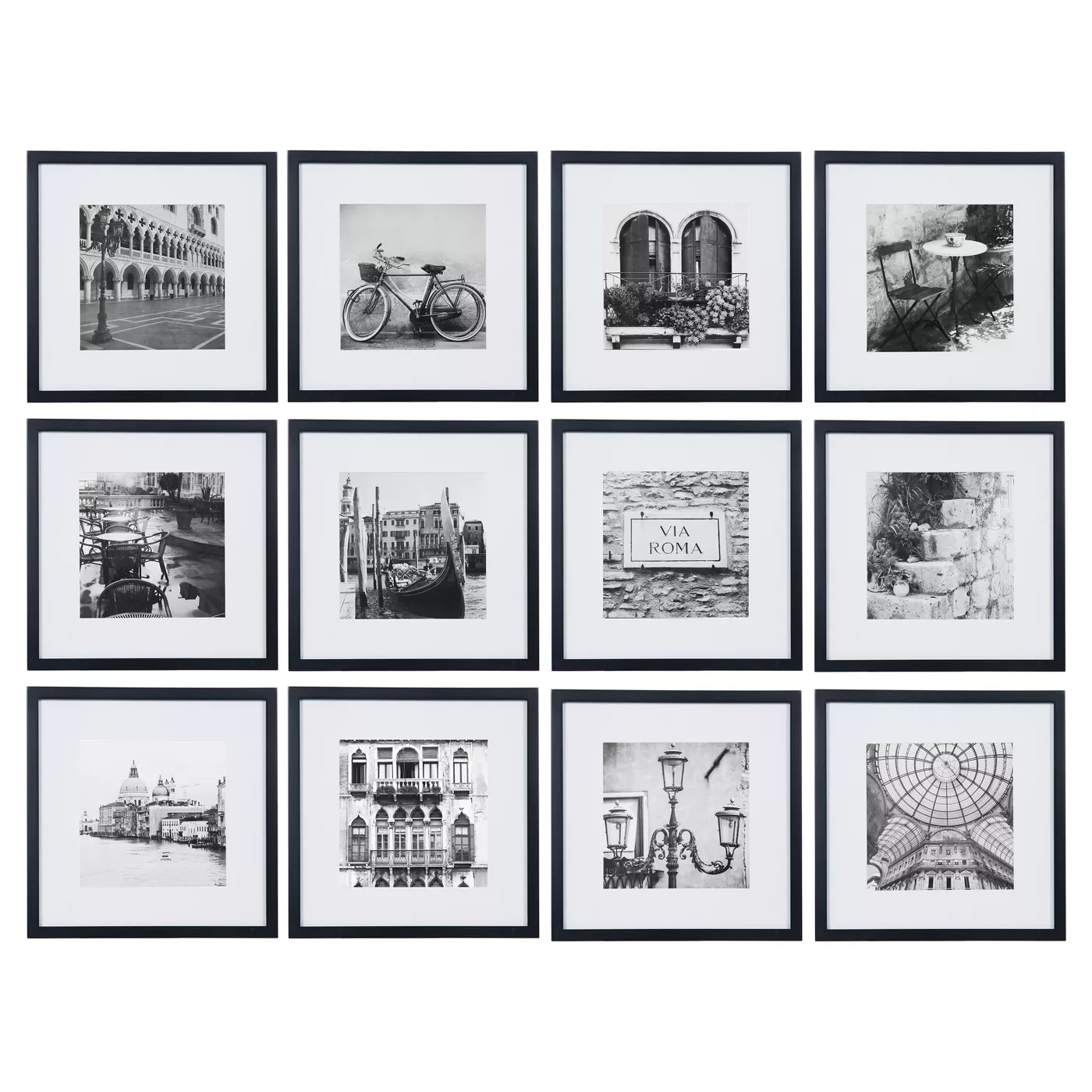 A classic farmhouse style element we absolutely adore is the family photos. Showcase your most beautiful memories with this Black Frame Kit from Target. You can choose either full-color or black and white images, but if you ask us, there's something about black-and-white photos that stand out even more. Choose an accent wall and place the gallery wall filled with family photos to set your family gatherings room's tone.
Farmhouse and Cottage Living Room Style with @Desertdecor
Not only is Liz renovating a beautiful home, but she's also sharing the process with her followers and taking us on a journey filled with clean, crisp, farmhouse style inspiration. However, Liz's home decor style also comes with an influence of cottage design, so you get a bit of both world, which gives you more opportunity to play around with your choices. The Chorus Theory Cabinet from Arhaus featured in this farmhouse living room is a real jewel, perfect for displaying antique books, family heirlooms, and decorative accents. She also added a matching ladder on the side to create a more lightweight feel to that wall and incorporate more textures.
For the center of your living room, consider a rustic, natural wood coffee table. We love the Rustic Reclaimed Wood Coffee Table by Antique Farm House. It's a classic choice that will become a showstopper and add homespun charm to your living room design. We love how this will look with some fresh white spring flowers. Or with a couple of fall-inspired decorative accessories.
Coastal Farmhouse Decor with @Sanddollarlane
Who says farmhouse style serves only in the countryside? If you're looking for coastal farmhouse inspiration, look no further. Take a look at the coastal farmhouse living room of Leen and how she masterfully blends coastal accents like glass bottles with blue hues and traditional farmhouse style furniture. Something like the Dedrick Round Arm Sofa from Wayfair in white is the perfect backdrop for this living room's blue decorative accents.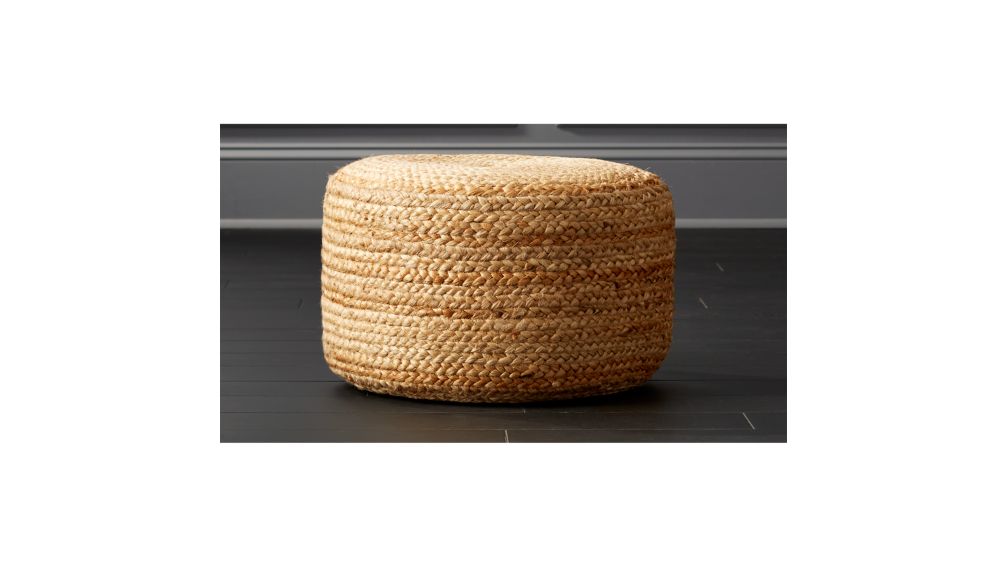 If you want to channel a coastal-inspired living room style, then your go-to material for coffee table, side tables, and poufs have to be wicker and rattan. We love this Braided Jute Pouf by CB2.  Place it by the side of your accent chairs to serve as a side table. You can add removable trays to make space for drinks or treats. If you have guests coming over, you can always use this pouf as additional seating space. Plus, you can bring this little pouf with you outdoors if you're entertaining on your patio.
New England Style Farmhouse Living Room with @Bluehstonehill
Fall in love with a whimsical and traditional New England farmhouse style home. Every detail of this breathtaking living room is set to create a unique experience and make the guests feel cozy and comfortable. Jamie invests in beautiful wallpapers that add intricate elements and a unique approach to her farmhouse style living. Yet, her living room is as classic and serene as it can get. We love how she decorated the fireplace mantel with a blend of family photos and subtle wall art. However, you can play around with your choices, like with this set of Framed Vintage Botanicals Wall Art from Target in a similar style.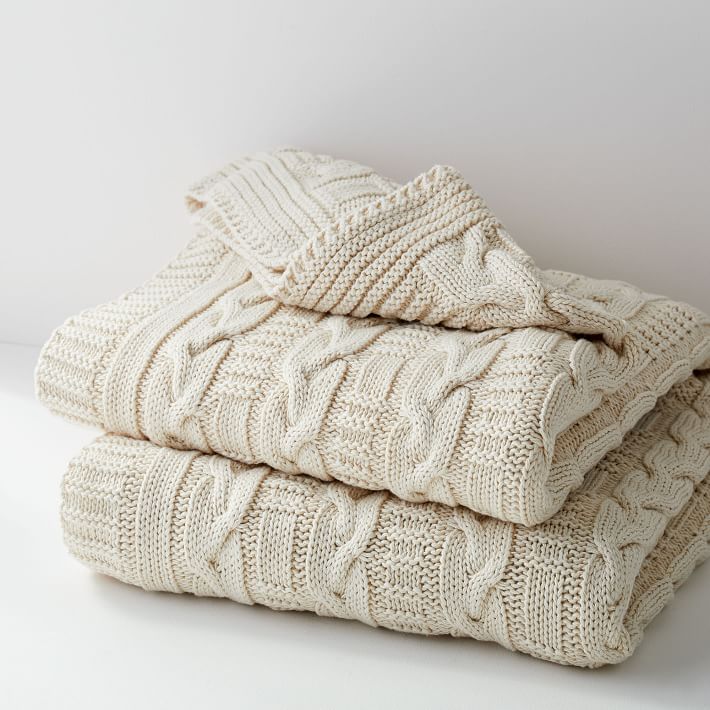 When you're working with a neutral color palette and a monochromatic style, the best way to add depth to your living room is with textures. Try this Cotton Braided Cable Knit Throw from West Elm. It's the perfect added texture for your couch or accent chairs. Plus, when you choose a neutral color, you get a throw that will work all year round.
Need Help with Your Farmhouse Style Living Room?
As you can see, when it comes to farmhouse style living room ideas, you can never have too many. It's easy to start looking for inspiration from famous interior design bloggers. It's a great way to start because it gives you an idea of the styles you gravitate towards and the look and feels you want to achieve in your home.
It can be overwhelming to choose from so many variables and styles. If you're feeling this way, start a project today and work with one of our designers to get started on the farmhouse living room of your dreams. We'll discuss your budget, current furniture pieces, different farmhouse styles you'll like to explore, and more.