When it comes to decorating a boho living room, your walls are your best friend. Beyond traditional wall art choices, there are millions of boho living room decor accents to dress up your walls.
Bohemian or boho decorating style is perfect for anyone who wants their homes full of life, they want to showcase cultures from around the world and want to highlight interesting and unique pieces. This aesthetic is carefree, relaxed, and celebrates the unusual.
Today, we're going to share some of our favorite ones to turn your bohemian living room from boring to fabulous with just a few new pieces. 
Round Baskets, Fans, and Woven Wall Art
The first element that you'll see in most bohemian-inspired living rooms are baskets, fans, and woven wall art pieces. Mostly because these are elements that are easy to travel with, and most people bring one or two. Additionally, today you can find these pieces at most decor stores.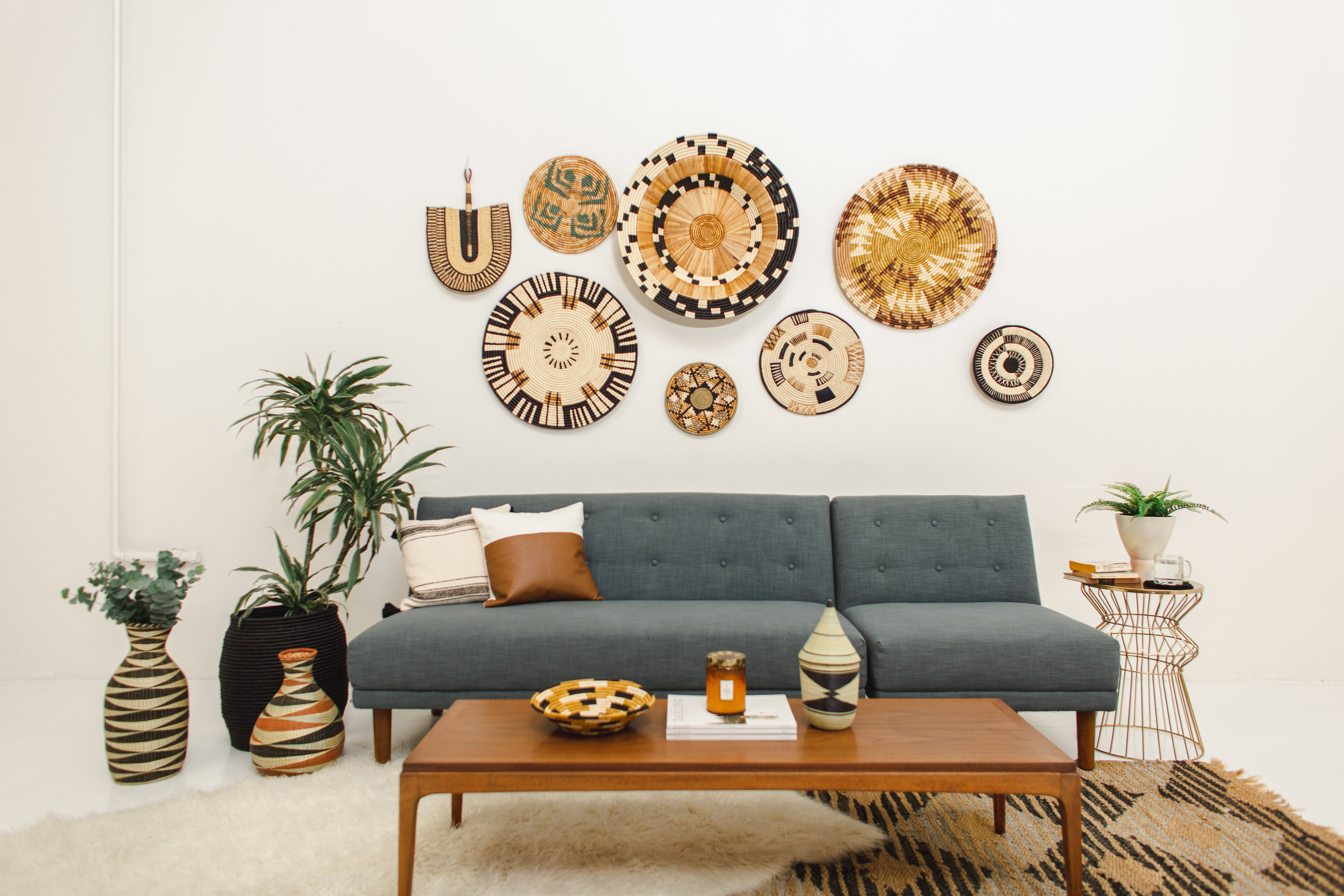 If the idea of mixing and matching different decor elements seems like too much for you, then consider a wall gallery instead. We love these items from Kazi. Their Oversized Checkered Banana Bark Round Basket is the perfect center of attention, while their Heathered Soft Gold Raffia Trivet brings out the classic nature touch of boho-inspired looks. Plus, the Black Ghanaian Fan brings an unexpected shape to the round gallery wall, breaking up the symmetry and giving an additional layer of texture and style.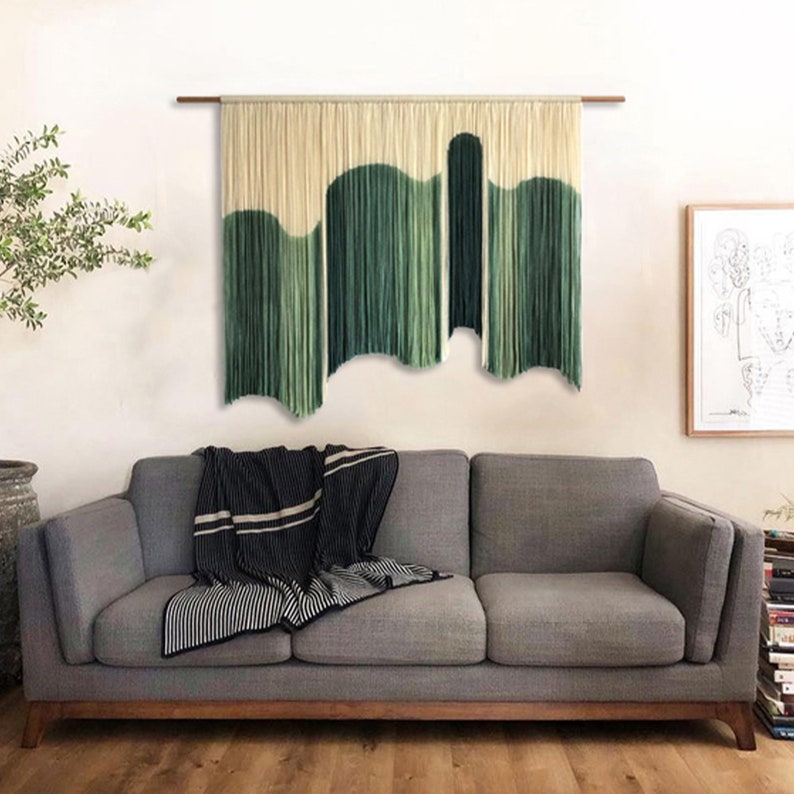 Another popular choice for living rooms is wall hanging tapestry. For example, this Bohemian Dip-Dyed Wall Hanging Macrame Backdrop from Etsy is the perfect option. These are pieces that take a lot of the guesswork away from decorating. Since they're usually larger in size, you don't need to worry about adding multiple pieces to complete the look. However, some people choose to add other decorative elements around this piece, especially when they're trying to create a statement wall.
Wall Art with Natural Woven Accents
You can still get wall art prints that will blend with the rest of your decor. Usually, these prints have a washed-out feeling to them. They feature natural elements, native or indigenous people, and other cultural references.
Another easy combination is to mix and match a large wall art print with some natural woven accents. See the combination we chose above. While this is for a bedroom, you can still get the same effect in your living room. We love how the Summer Cactus print from Minted creates a statement. In your boho living room, this should be the center of attention, usually placed above the sofa. Then, on the opposite wall, you can add one or three of these Natural Woven Banana Bark Disc Wall Decor accents from the World Market. When paired, they give you a beautiful boho-inspired look without having to stay confined within one wall only.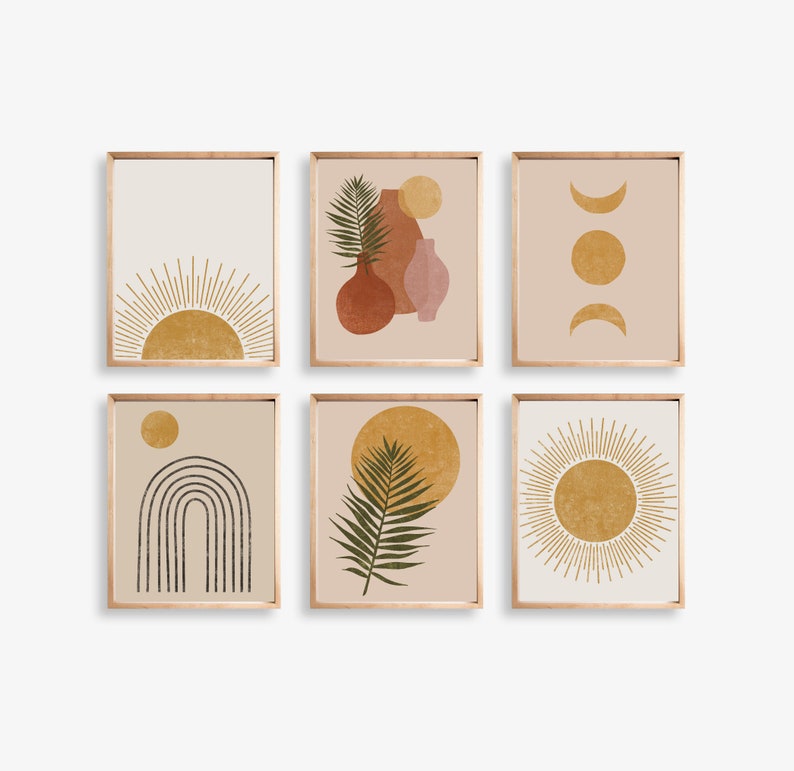 Even when you choose to pick print elements, if you select a boho-inspired artist, odds are their focus will be nature like these Boho Print Set from Etsy. Not only does it feature the traditional terracotta, burnt yellow, and dark greens often seen in boho decor. But, it also features natural elements in a very minimalistic way. These can be the perfect sofa background or can work for a small wall too.
Making a Statement with Wall Sculptures
A considerable portion of boho living room accents is wall sculptures. These are usually large sculptures of animals or nature symbols like the sun or the moon. It depends on the overall style you're looking to achieve. Sculptures are ubiquitous among farmhouse-style inspired homes.
If you want a more impactful piece to your living room decor, consider this Carved Cow Skull from Skull Bliss. Placed above the sofa in the living room, it will create the perfect center of attention to plan the rest of the wall decor around it. While these look great against a bone or white wall, they make an even bolder statement when paired against a bright paint wall, as we did for this boho bedroom design.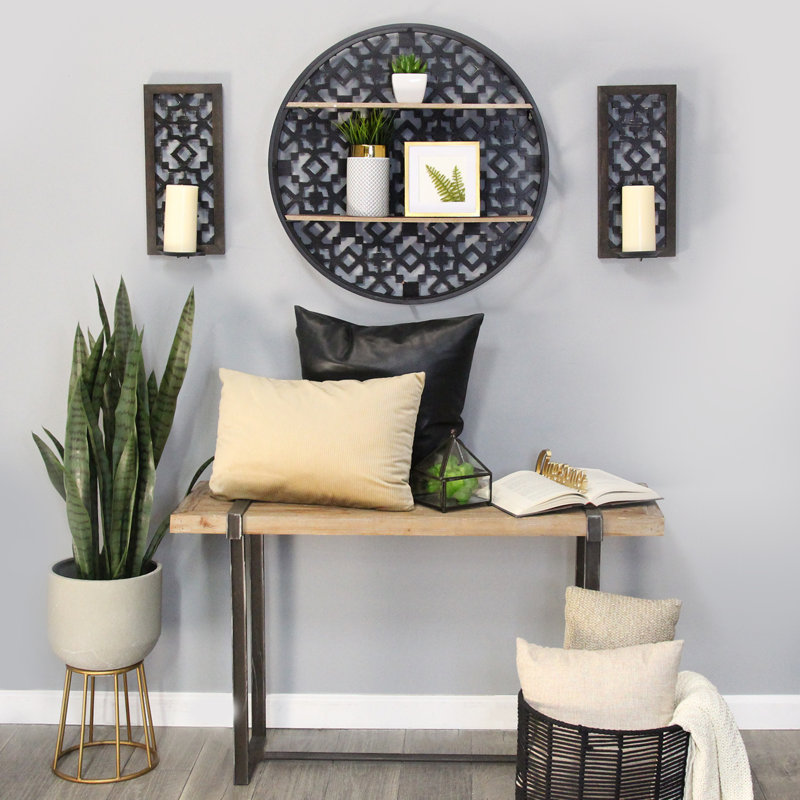 For the living room, you can take advantage of wall sculptures like this Belbekkar Oversized Decorative Boho Wall Shelf from Wayfair. It does add an intriguing decorative element, but it also gives you more space to hang plants,  books, or other tiny items that need to be organized. You can choose these to be the center of your sofa backdrop and build a gallery wall around this center masterpiece.
Use Small Details for Layering
Because bohemian homes are all about the details, using small decorative pieces like small mirrors or tiny prints can help you fill in the gaps. Most boho homes have one or multiple gallery walls. These little pieces are excellent to fill in the holes and create a floor-to-ceiling decor.
Another quick tip for decorating your boho living room walls is to think small. While large pieces can be the center of attention, resort to small decorative accents to fill in the empty spaces. We love these Magical Thinking Woven Wall Mirrors from Urban Outfitters. They'll attract and reflect light making the living room appear brighter, more spacious, and inviting. These work wonderfully paired with other woven items or boho-inspired canva prints. You can easily incorporate these into a massive gallery wall, and they'll still stand out. They're also cute elements to add over your fireplace mantel, for example.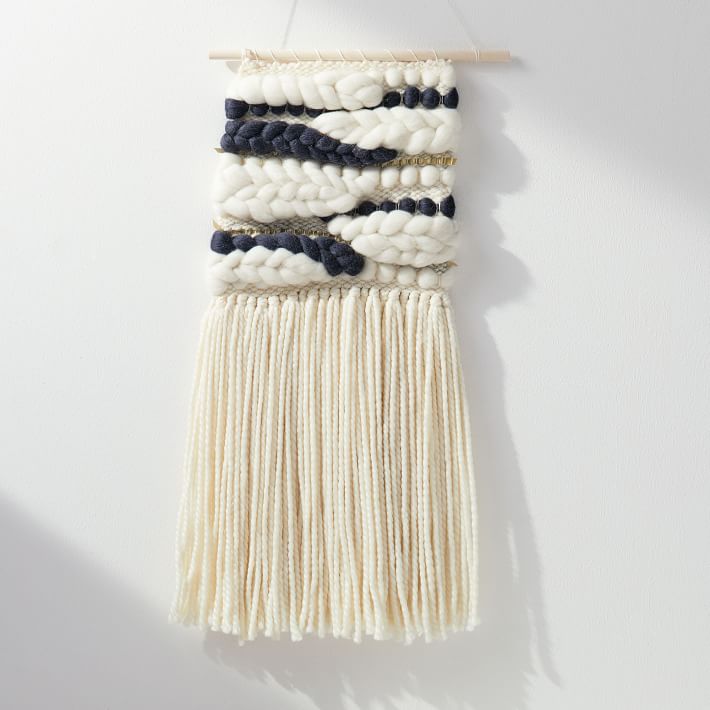 The best part about the bohemian style is that you can mix and match many textures. With the mirrors above, adding a woven element like this Sunwoven Natural Wall Hanging from West Elm creates the perfect contrast without being overpowering. The added texture will create more depth and make your wall appear more intriguing. These are perfect for adding by column walls or by corner spots in your living room to add just a touch of decor.
Geometric Wood Art for Modern Boho Styles
The boho movement is getting more and more inspiration from modern mid-century style. Many are blending it with eclectic inspirations to make their spaces feel more contemporary. However, natural elements like wood are still very present in the wall decor accents for these homes.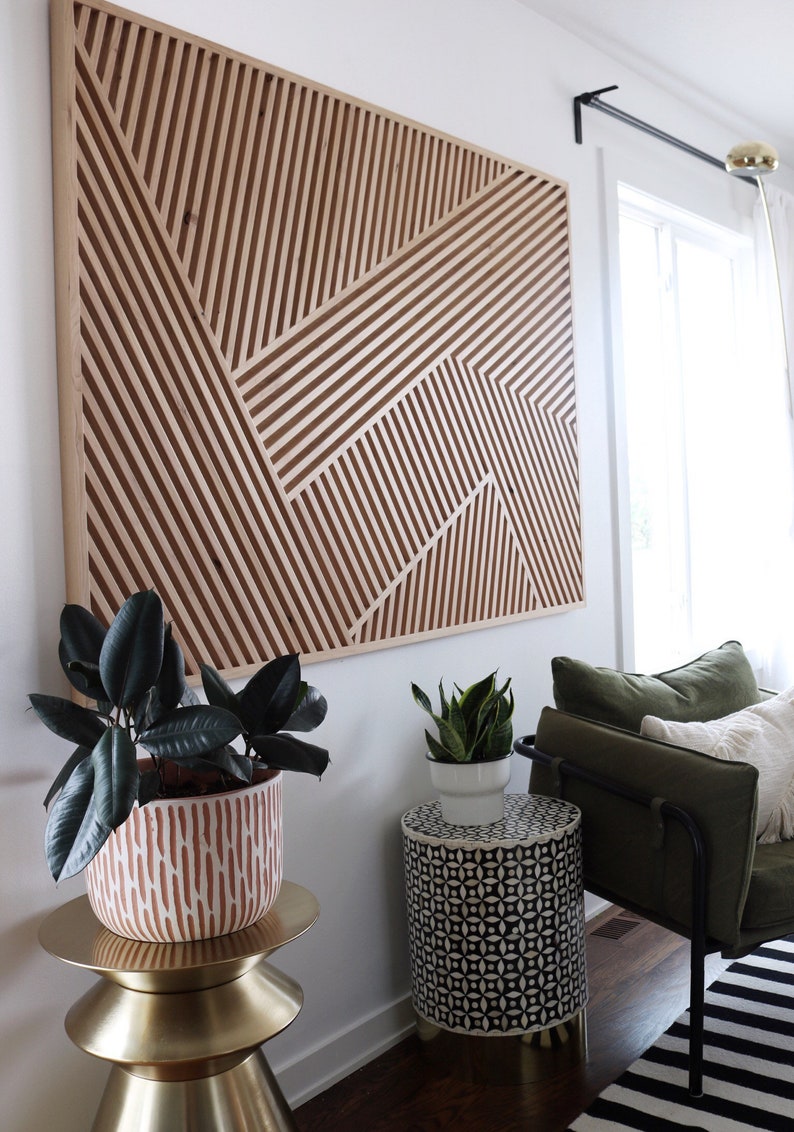 If you're going for a modern boho living room, then choosing geometric wall art pieces is a quick way to achieve this look. We love this Modern Wood Art from Etsy to absolutely change the mood of a room and make a lasting impression on guests. This wood wall art is perfect for placing by your accent wall or for creating the illusion of woodwork behind the sofa. Compliment it with a contrasting accent chair and a few planters to maintain that bohemian living room style you're looking for. These types of wood art pieces are proof that bohemian can be modern and eclectic at the same time. 
Remember, the boho style is all about bringing pieces from other cultures and places. This Carved Wood Wall Art from West Elm is by an artist from Honduras based in Brooklyn. This wooden wall art piece is simplistic yet powerful. As the light that enters through your window progresses, the shadows and textures of the piece will change, making it an ever-changing wall art piece. You can choose to get a single piece to incorporate it into your gallery wall, or pick the three panels to create your unique gallery.
Need More Boho Living Room Accents?
Thankfully, nowadays, many major retailers, including Target, West Elm, and Wayfair, are carrying boho-inspired wall art pieces you can easily find online. However, the best place to find boho wall art pieces is through vintage stores, traveling, and contacting art galleries that work with foreign artists.
So, next time you travel and want to bring something home with you, please do so. Making the arrangements to bring decorative elements can make a huge difference in your home's decor.
If you're trying to add more boho living room accents to your decor but have no idea what to add with your existing furniture and decorative pieces, let us help. Start a project today and work with our designers to carefully find the right details to complete your living room space.