Chic neutrals, shimmery metallics, and luscious fabrics — there's something about modern glam decor we simply love. With nods to old Hollywood, glam home decor is exciting, lavish, and full of personality. Whether you're looking at ways to spruce up your bedroom for a semester at home, or you're getting ready to join college-life at your go-to university, these tips will help you create the perfect dorm with the most adorable modern glam style.
Cover Your Bedroom Basics
Let's start with the basics of glam decor. Modern glam comes from Hollywood Regency decor, which dates back to old Hollywood days in the early Art Decor period. The modern glam style mixes styles like Art Deco, Greek Revival, and romantic design. It also incorporates plenty of curvy furniture from the Victorian era, and it's all about amplifying the shine of its metallic accents. Beyond metallics, lucite and lacquer also make an appearance on coffee tables and small decor pieces for their reflective, sleek surfaces.
These tips will help you choose wisely as you add new elements to your perfect dorm room:
Furniture must have sculptural lines, metal accents or detailing, and upholstery.
Color palettes that go well with modern glam include white, gray, black, pastels, and jewel tones.
Focus on shopping for light-catching materials like metallics, crystal, mirrors, lacquer, and faux furs.
Add high-pile, luxurious fabrics in traditional, geometric patterns and tons of texture.
If you can, choose dramatic lightings like chandeliers, crystal table lamps, and sconces.
Go Bold with Patterns and Textures
There's no much space to play around when you're designing your dorm room. Even at home, you might be working with a small bedroom. However, that doesn't mean your modern glam dorm isn't a possibility. Use patterns and textures to elevate the glam impact of your room's decor. For glam decor, the bigger the pattern, the better.
You can often find traces of old Hollywood in art decor designs. They usually have geometric statement shapes. Think Damask scales, quatrefoil patterns, and geometrical shapes. You can infuse textures through your duvet choice, throws, and pillows. Then, choose your rugs and decor accents to showcase the different textures.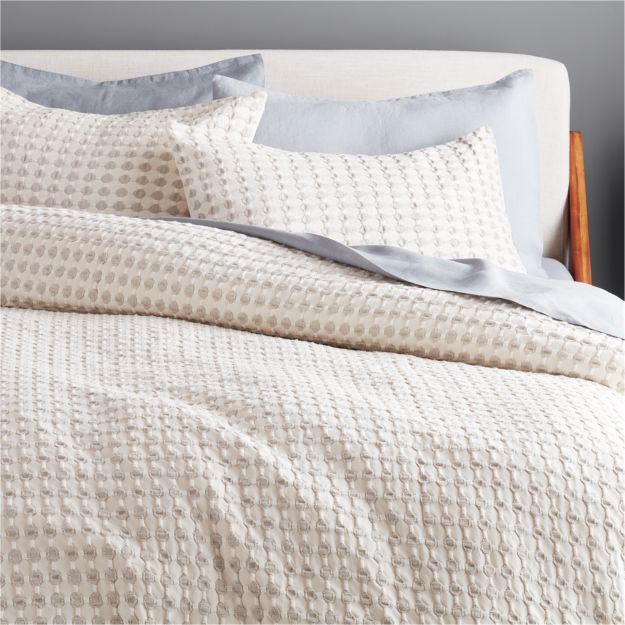 Think about raised textures in your duvet choices, for example. We adore the Estella Grey and White Bedding Set from CB2. Not only will it add volume to your bedding, but the textural jacquard woven pattern adds a dose of dimension and silkiness that feels luxurious to touch. Keep your bedding choices in neutral colors, and focus more on their texture. The different textures will make them look different as they capture the different lights throughout the day.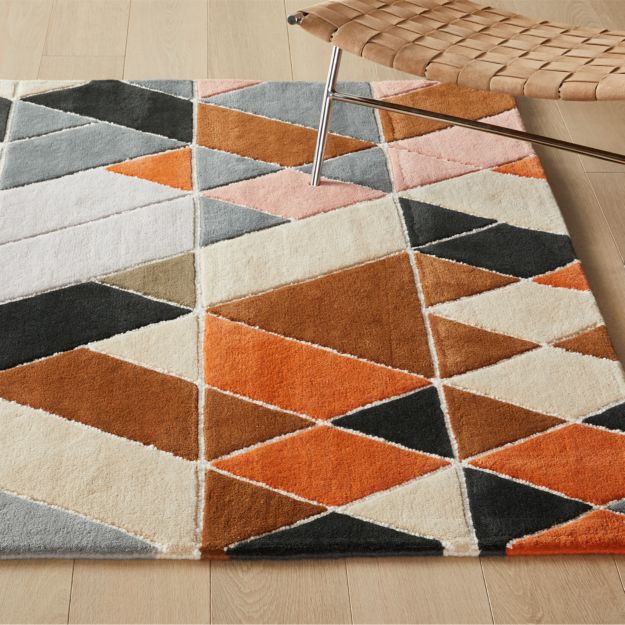 On that same texturizing note, make sure you frame your dorm space with an area rug. For example, this Cleo Multicolor Rug from CB2 is the perfect example of geometrical shapes that are minimalistic, modern, and the beautiful plush texture of the rug makes it oh-so-glam. Of course, you can choose traditional plush-looking glam rugs that will feel oh-so-comfortable every time you step on them.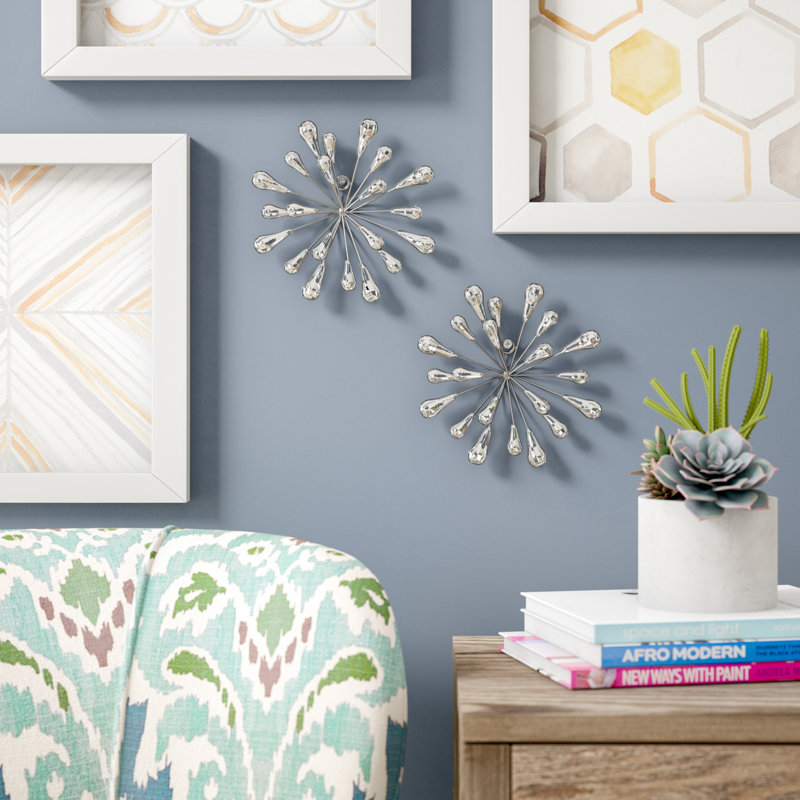 Another way to incorporate texture to your bedroom decor is with wall decor accents. This Starburst Wall Décor Set from Wayfair is the perfect size for a modern glam dorm.; you can place these by your nightstands to make them pop, or next to your office desk. Tiny accents like these can infuse enough texture to the room to add depth and style without overpowering the design.
Start by Glamorize Your Wall Art
Your walls are the one space where you can get really creative. Create a glamorizing wall gallery that showcases your personality and infuses the room with a bit of color. You can go for traditional canvas art, or add more art deco wall accessories like mirrors, jewelry organizers, string lights, and more. Remember, while this is all about decor, your space needs to remain functional, so if you need some extra storage room, get a few shelves to help you stay organized.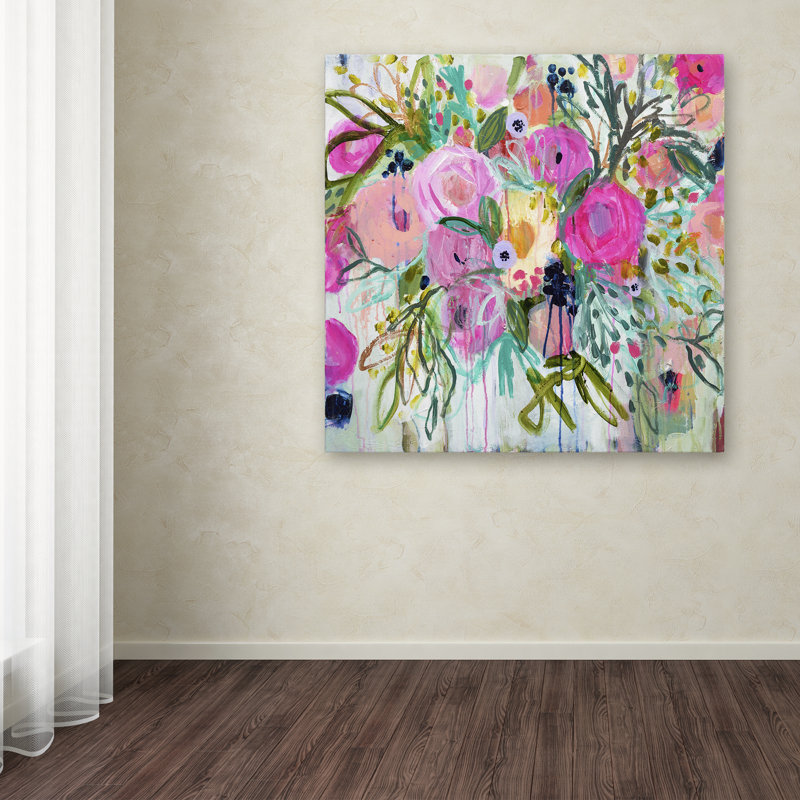 How fabulous is this "Rose Burst" Wrapped Canvas Painting Print from Wayfair for a glam style dorm room? The perfect size to create a statement and draw attention. When you choose a large glam wall decor like this, you can even set it up as a backdrop for your bed. It will be the perfect headrest.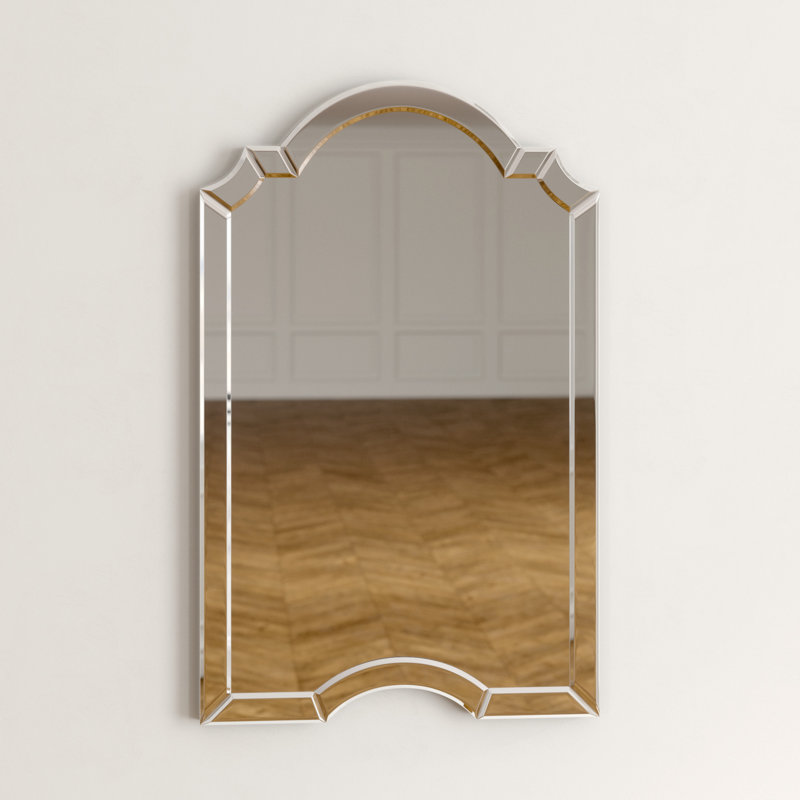 Make your dorm appear more spacious with this stylish mirror. The Ekaterina Arch Crowned Wall Mirror from Wayfair is the perfect accent for your modern glam bedroom. Place this mirror by your accent wall to draw all the attention to this area and expand the room.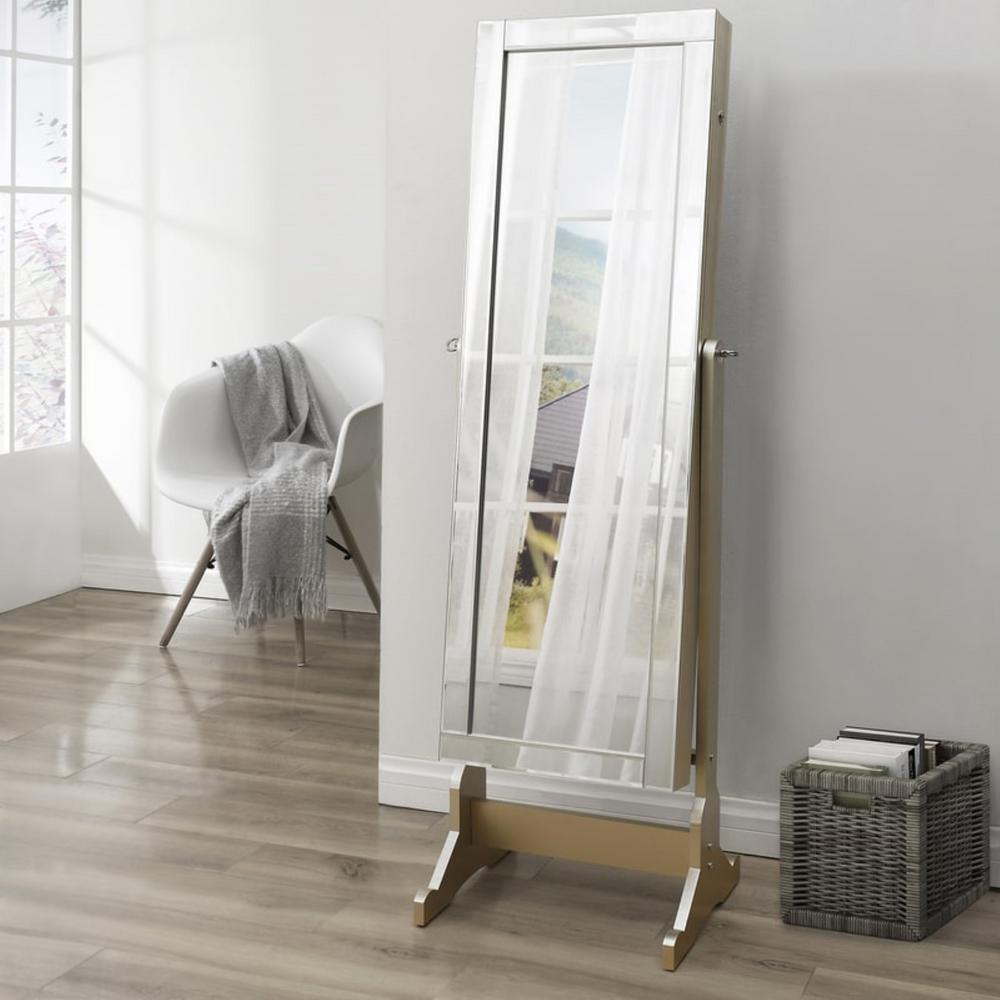 If wall space is limited, then consider a floor mirror with hidden storage space. The Adele Royal Champagne Cheval Floor Mirror Jewelry Armoire from Home Depot is an excellent choice. This mirror will make your tiny dorm appear more spacious, it will serve as the perfect spot for mirror-selfies, plus it gives you enough space to safely secure your favorite jewelry pieces and a few more items like perfumes or lotions.
Dare to Change the Walls & Go Bold
One of the most tedious elements of your dorm's decor is often the walls. Dare to change the walls using removable wallpaper. You can set these up by yourself and just take them down when you're ready to move out of your dorm. You don't have to change every wall. Pick the wall next to your bed or the one behind to create a statement wall that sets the stage for the rest of the decor.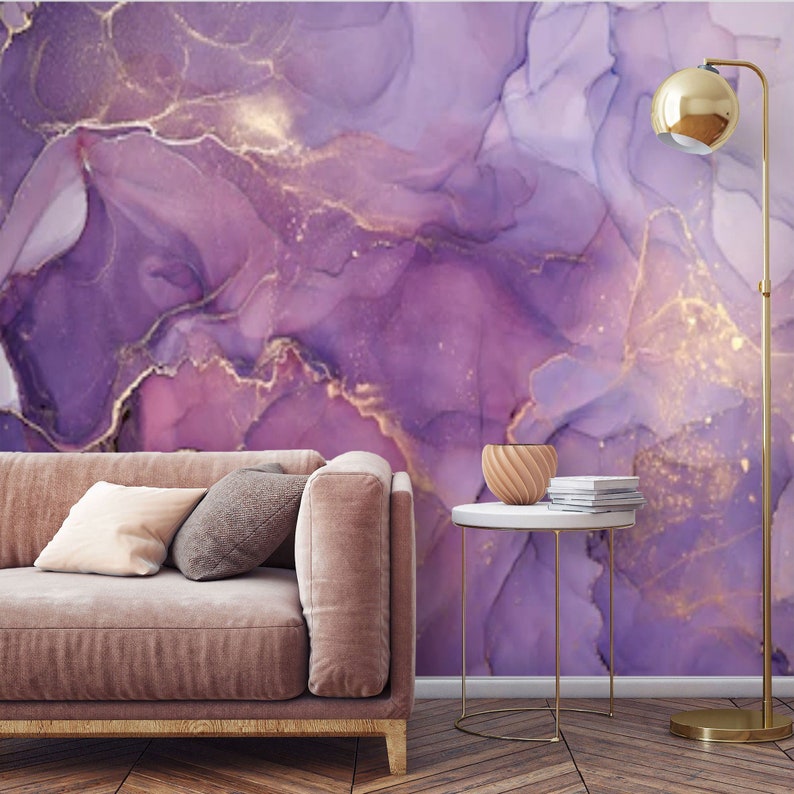 For a glam-worthy room, choose to go bold with something like this Peel and Stick Purple Gold Abstract Wallpaper from Etsy. The subtle hints of gold here and there will bring out the gold accents in the rest of your furniture pieces. It's the perfect statement to add to your dorm without making it feel too busy.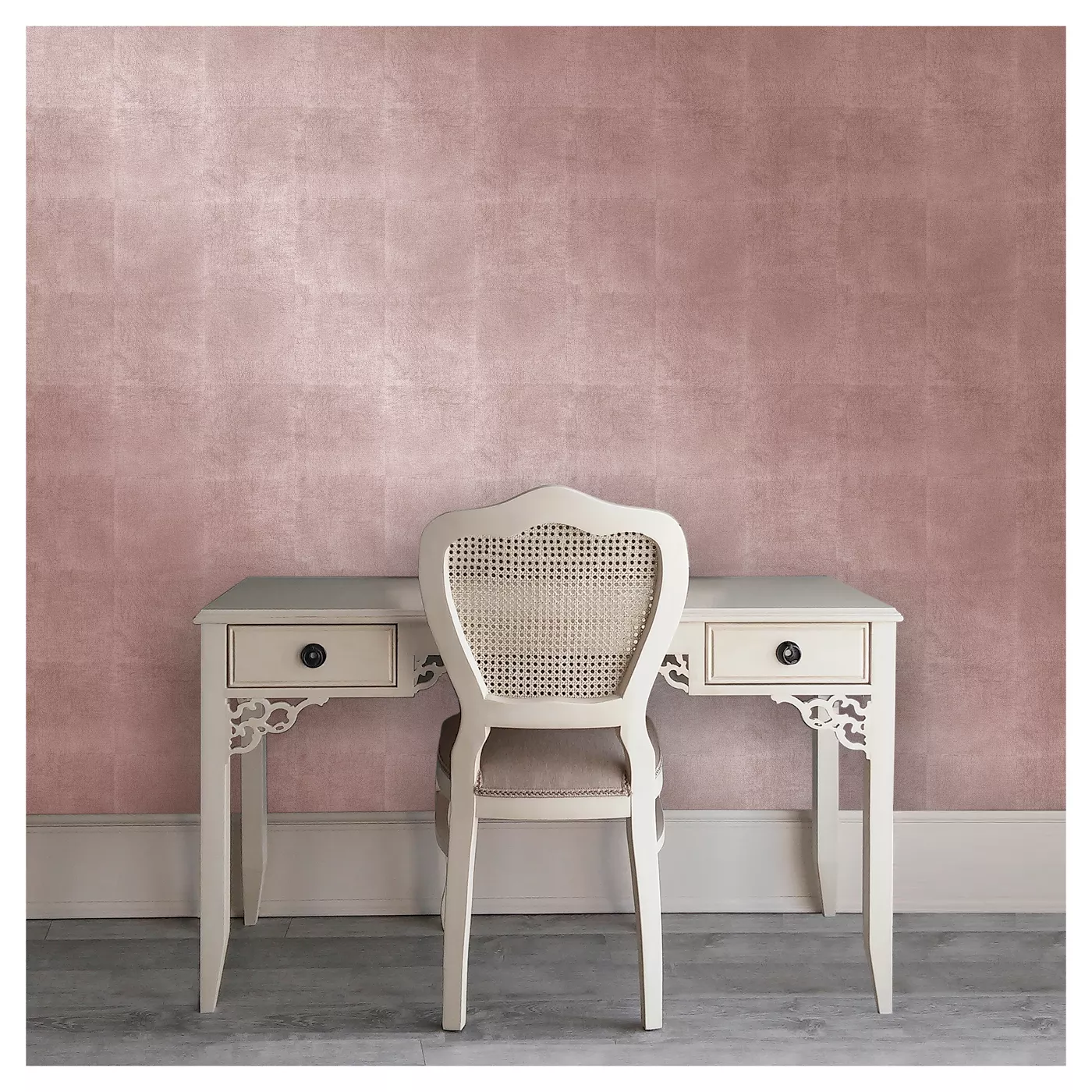 If you're looking for a more subtle wallpaper design, then consider the Metallic Leaf Peel & Stick Wallpaper by Project 62 for Target. A solid yet shimmery wallpaper design helps you have more fun with wall accessories and wall art in general. Plus, with this style, you can get away with using it on all the walls.
Glam Modern Style = Shining Styles
Finally, add some sparkle to your bedroom. Fall in love with metallics, glitter, and crystal accents that create that distinctive glam looks you're trying to create in your dorm. These details are easy to add through your table lamps and ceiling lamps. Jewelry organizers or desk accents are also a perfect way to infuse some shinning objects into your decor.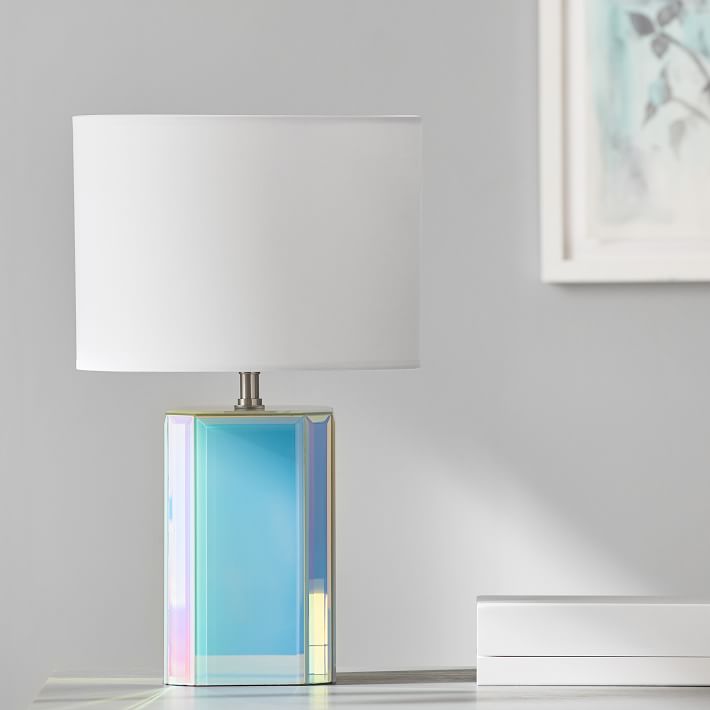 Make a fashionable statement with this Iridescent Table Lamp from Pottery Barn Teens. It adds the right amount of brightness and glamour to your space while also delivering those vintage-vibes you desperately want in your glam bedroom decor. Since you usually don't have the luxury of having two nightstands, invest in an astonishingly gorgeous nightstand lamp that's big and bold.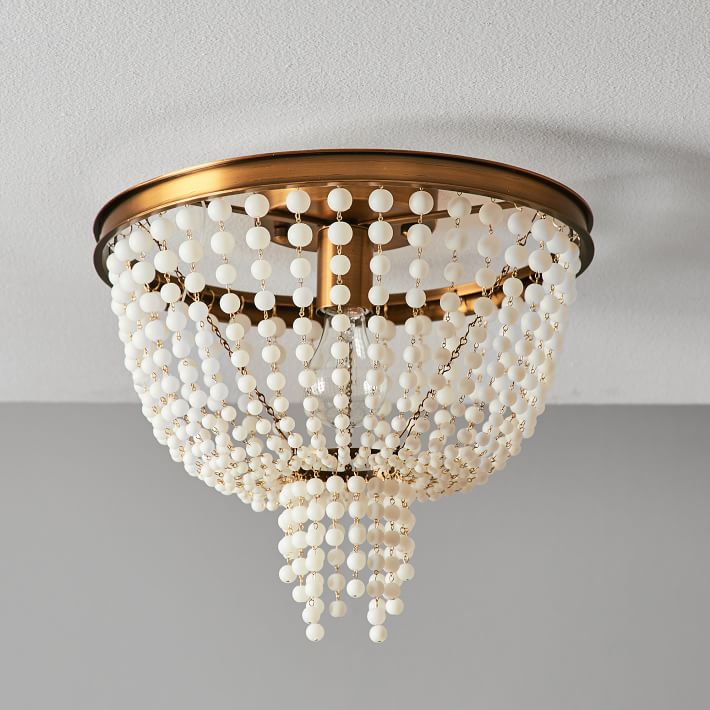 It can't get more glam-worthy than this Glass Beaded Flushmount from Pottery Barn Teens. Perfect for dressing up the space and offer a unique antique brass finish. If you can change the ceiling lighting in your dorm, this will take it from dull and old-looking to modern glam in an instant.
Let's Start Dreaming the Perfect Modern Glam Dorm
It might be easy to dismiss the importance of decorating your dorm. However, this will be your home for the next few years. Making your modern dorm glam will make this room feel yours uniquely. This should be a room that sparks inspiration, creativity, and motivation to make your wildest dreams come true.
Are you ready to create the glam bedroom of your dreams? Let's start a project today, and we'll work together to design the perfect modern glam dorm room. We know that modern glam means different things for everyone, so after you take our interior design style quiz, we'll start working with you to find the best pieces to create a space that sparks a bit of joy every time you walk in.