With more of us enjoying our time at home and fall nights quickly approaching, it might be time to reconsider our backyard decor. Picture yourself in a relaxing oasis with the breeze and the birds chirping right from your backyard. Believe it or not, with a few tweaks here and there, you can create a garden that can look like a vacation backyard oasis.
Keep reading to check out some decor ideas to turn your backyard into a beautiful place to relax, enjoy dinners with your family, and entertain guests all year long, straight from your beautiful yard.
To create the ultimate oasis, we have to think about layering. The more elements and layers you add to your outdoor space, the more inviting, intriguing, and outstanding it will look.
Start with the Foundations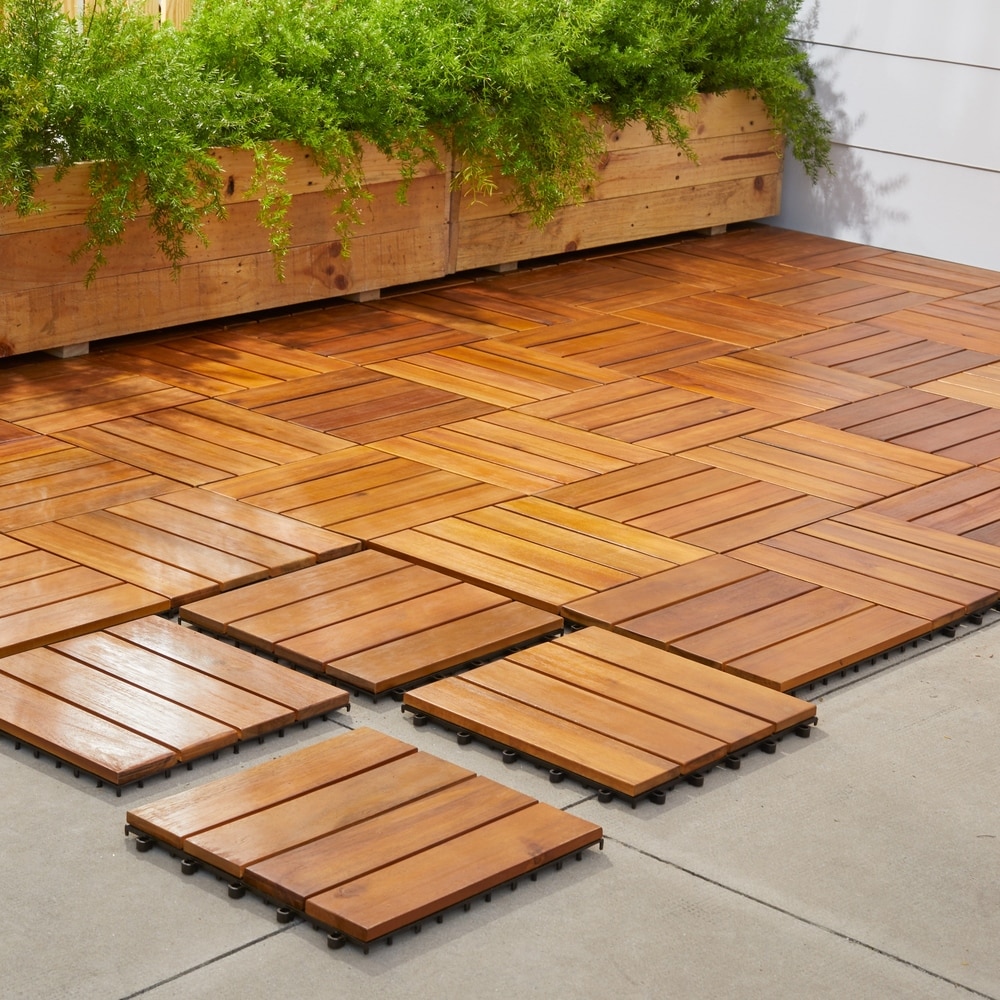 Before you move onto anything else, make sure you start with the right foundation. These Vifah Premium Plantation Teak 4-slat Deck Tiles ($53.99), are perfect for transforming your patio or apartment balcony into a gorgeous outdoor oasis. We love how these traditional style decks can be versatile and instantly change the way your outdoor space looks. It undoubtedly gives that upscale look everyone wants.
Bring On the Fire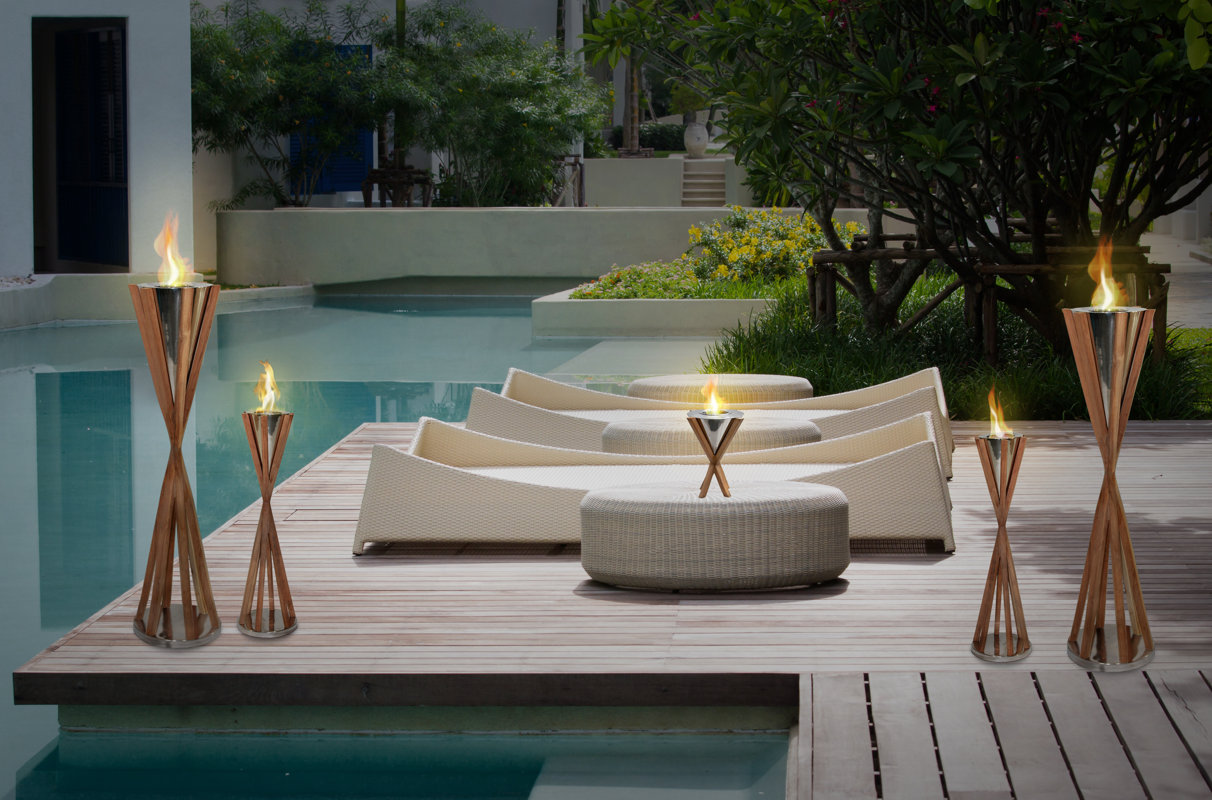 What makes an outdoor space feel like an ultra-luxurious five-star hotel? The fire. Start with these Kouba Wood Gel Fire Columns ($233) for a modern and rustic element that adds a premium and upscale look to your backyard. The striking design makes a dramatic statement that everyone will notice.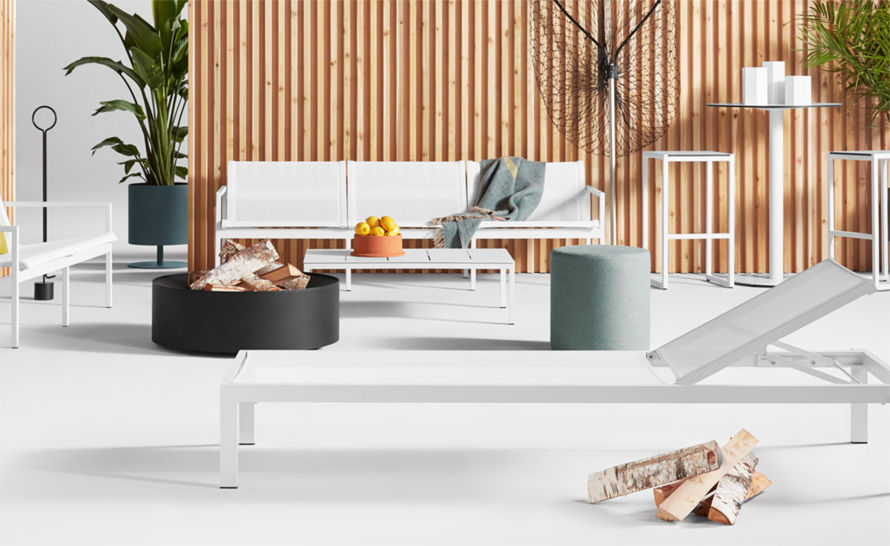 If you have the room for it, why not bringing a fire pit that serves a double purpose. We love how the Smokey Fire Pit ($449) looks and how it's equal parts fire pit and minimalist steel sculpture when it's not in use. Perfect for bringing in the coziness to your charming outdoor setting.
Incorporate Nature
The easiest way to incorporate nature into your design is by making your seating choices to highlight those elements. For example, this tropical and stately Aeri Lounge Chair ($399) features natural wicker weave with bohemian references. Not to mention, they're the perfect seating option for relaxing after a long day at work.
Another tropical option with the same elements. The Palma Outdoor Rattan Lounge Chair ($799) combines a natural aesthetic with a comforting charm that's perfect for outdoor settings. Great for apartment balconies or spacious backyard oasis.
If space is limited, all you need is the one comfortable chair. The MoDRN Scandinavian Nassau Outdoor Woven Lounge Chair ($419) is an attractive option. Create your private mini oasis from your small backyard or balcony.
Frame Your Space
Everyone feels they don't need a rug in their backyard until they add one. This Summit Outdoor Rug ($675) brings an exciting and almost exotic element to your yard that makes it that much special. This modern take on classic Moroccan rugs adds vibrant colors and patterns that elevate the space.
You can also opt for a less busy rug like this Ombre Pop Rug ($525) to set the stage. Make sure your main furniture like chairs and coffee tables fall within the carpet to frame everything and designate your outdoor area.
Add Space for Treats & More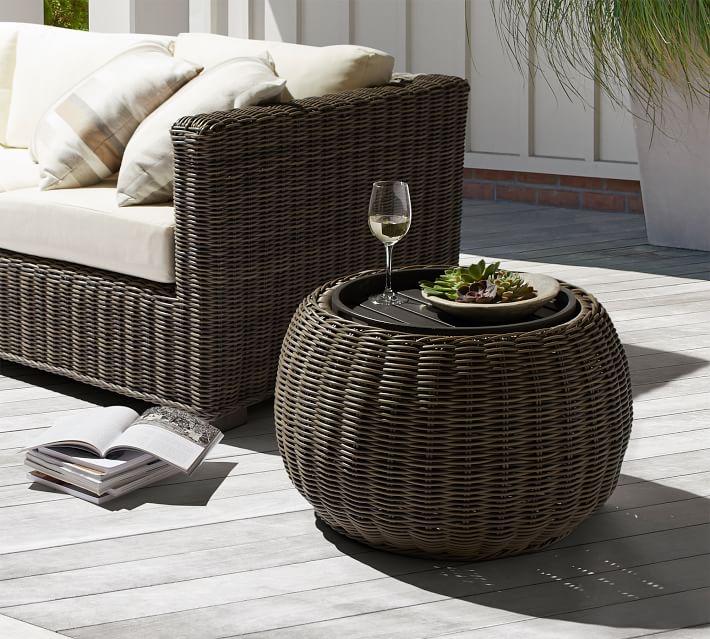 Last but not least, make sure to finish your outdoor space with a table. Choose either a coffee table or accent table that gives you enough space for drinks, appetizers, snacks, favorite books, and more. We love the Huntington All-Weather Wicker Tray Top Storage Table ($449) because it serves as a coffee table, transforms into extra seating space when needed, and helps store away blankets and additional pillows to keep the area tidy-up. Perfect for small backyards and apartment balconies.
Let's Dream About Your Vacation Backyard Oasis
If you're ready to start planning your outdoor space, contact our designers today and start a project. Together we can help you create a dream backyard that fits within your style and budget, just in time for summer night affairs.