1 of 50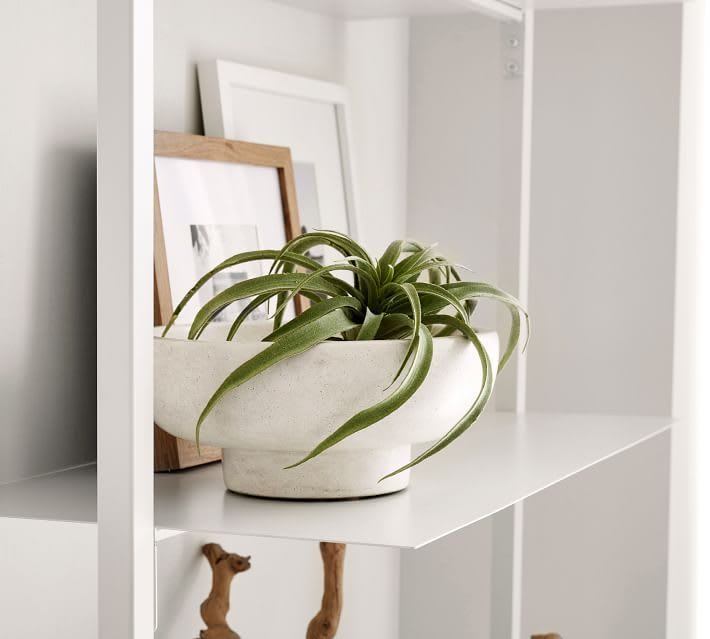 Pottery Barn - Tillandsia Succulent Stem
Stems are a great way to add character to those side tables we never know quite how to fill. They are also perfect for those empty vases that are hogging cabinet space when unused. Adorned with a stunning silver sheen, this spring-inspired greenery is ideal for filling out your spring centerpieces.
2 of 50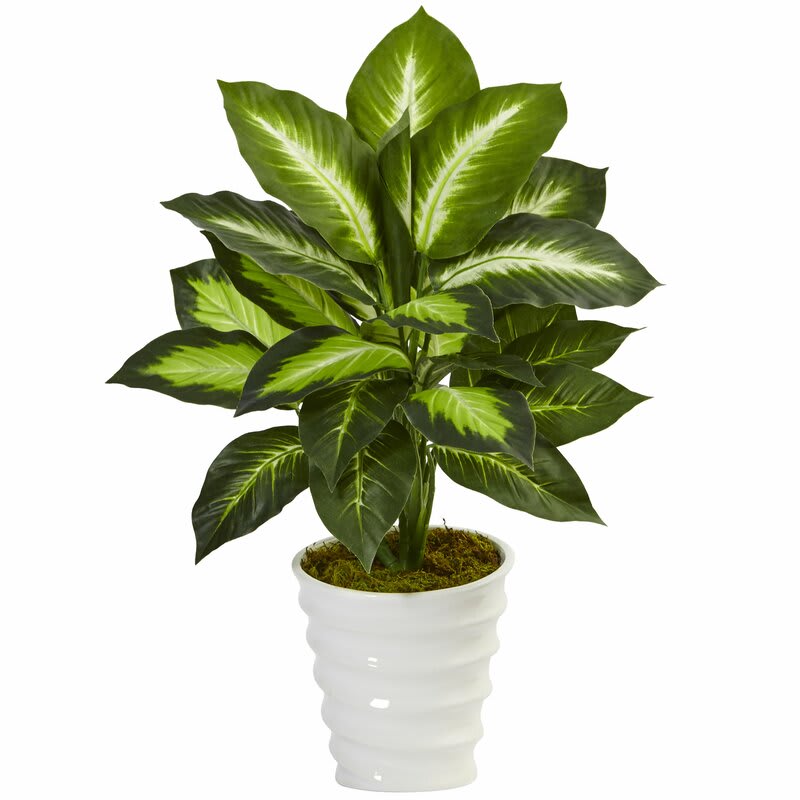 Wayfair - Faux Dieffenbachia Plant
We know, we know - maybe this post is over-saturated with greenery recommendations. But there's a reason for that - we love greenery! Faux or live, plants bring a calming and inviting atmosphere to any home, so we are just trying to help achieve that in yours. Not to mention, this plant is maintenance-free and is the perfect finishing touch to round out your spring living room decor.
3 of 50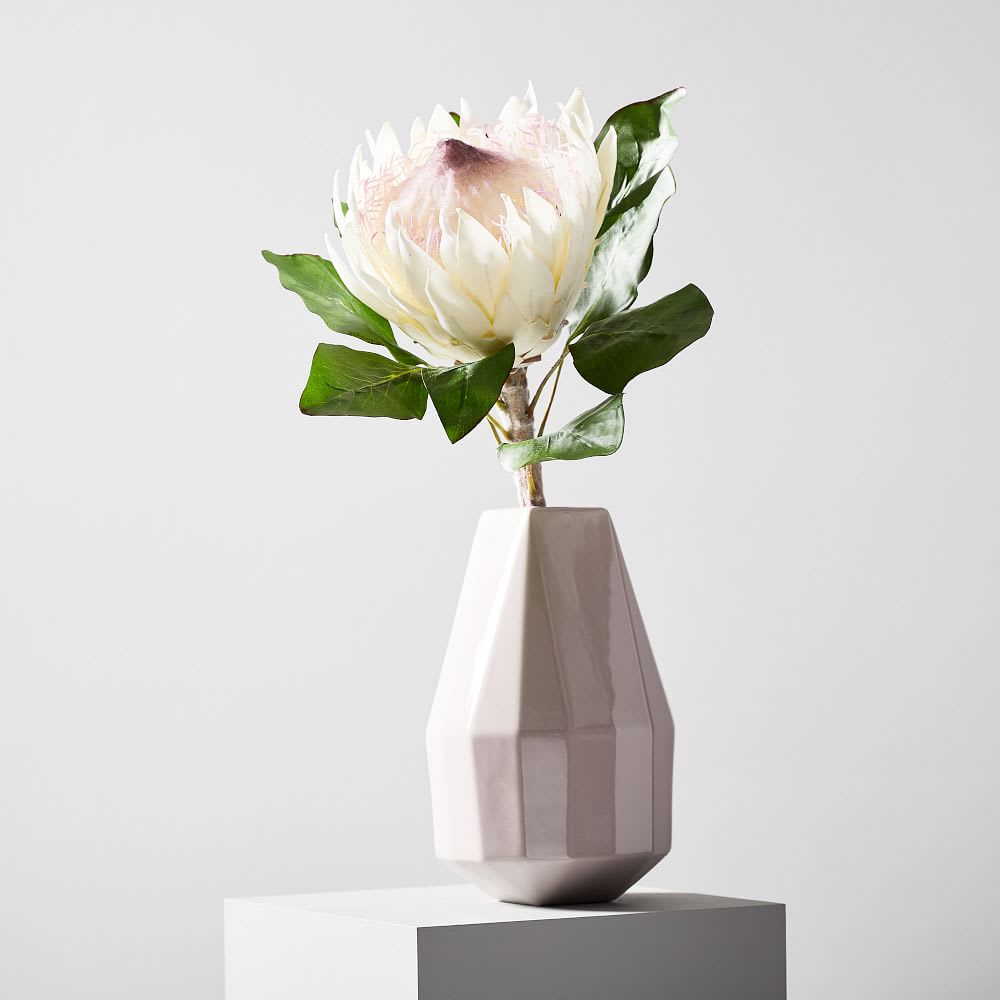 West Elm - Faux Large White Protea
While live plants are perfect for those who love to nurture, not everyone has the time (or patience if we are being realistic here) for anything but faux greenery in their home. Ring in the spring with this beautiful spring table decor for any surface in your home. Add this stem to any old vase you have lying around to give it a whole new purpose.
4 of 50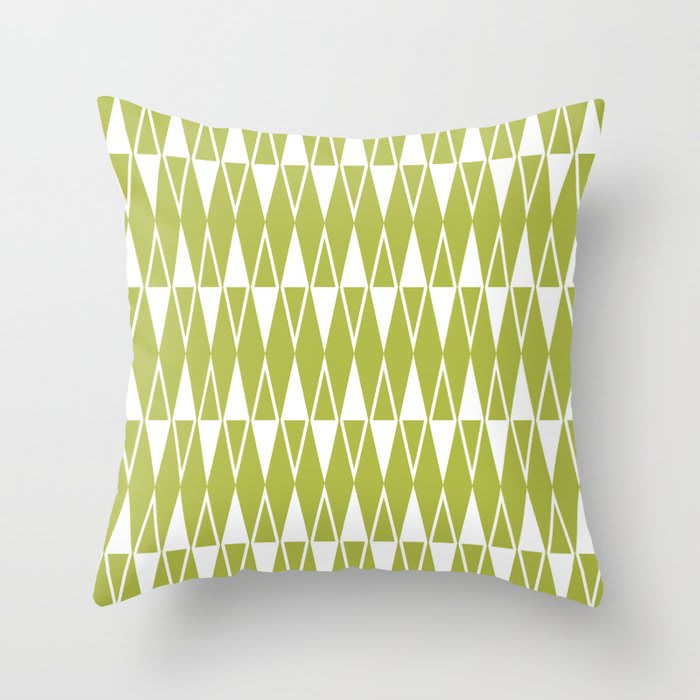 Society6 - Mid-Century Modern Diamond Pattern Chartreuse
We love Society6 for their bold products, and that definitely shows through here. We always aim to bring in pops of color and pattern to the typical pastel-hued spring theme to add both interest and our own personal twist. Coming in both indoor and outdoor options as well as an abundance of sizes to find the perfect fit for your sofa, this pillow is a go-to to liven up any boring aesthetic.
5 of 50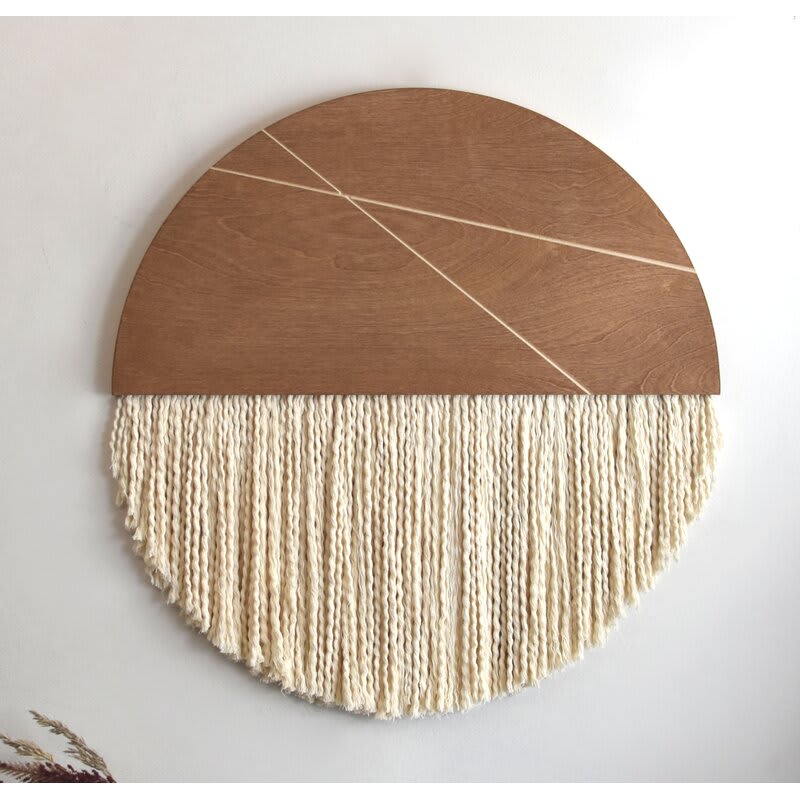 Wayfair - Cotton Wall Hanging
As interior designers, we love to mix metals for that "wow" factor - especially in the spring season as we amp up for summer. This eclectic wall hanging from Wayfair does just that with its birch wood top and cotton base. Even better, it comes equipped with all of the supplies you'll need to hang it anywhere in your home!
6 of 50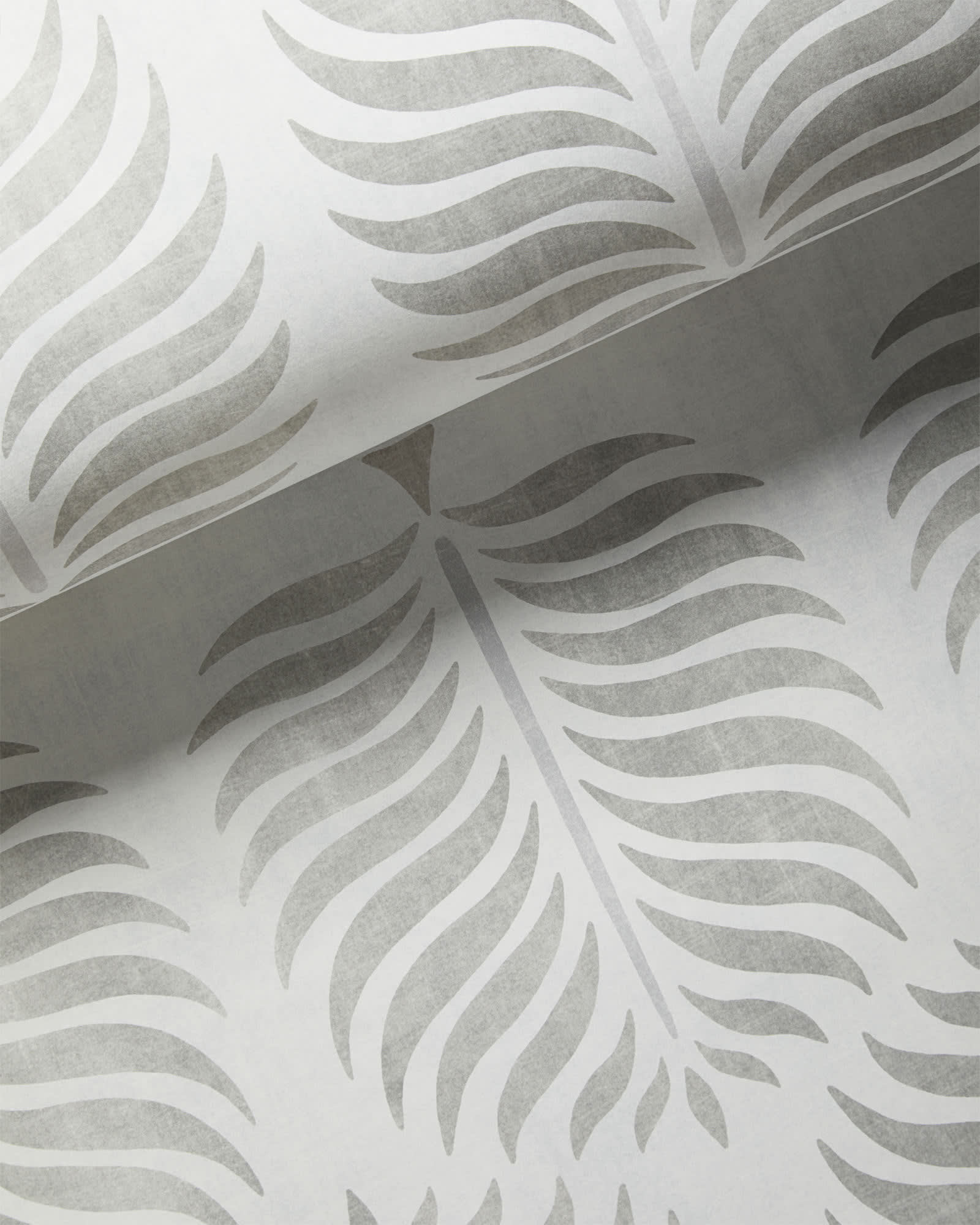 Serena & Lily - Grenada Wallpaper
As they say, go big or go home. Well, we are going big and we hope you do, too, with this stunning blue and botanical-inspired wallpaper from Serena & Lily. Adding texture to a space is ideal to create interest, and who wants a boring space? Outdo your friends' traditional spring decor with a bold accent wall, or even a full re-do of all of your walls!
7 of 50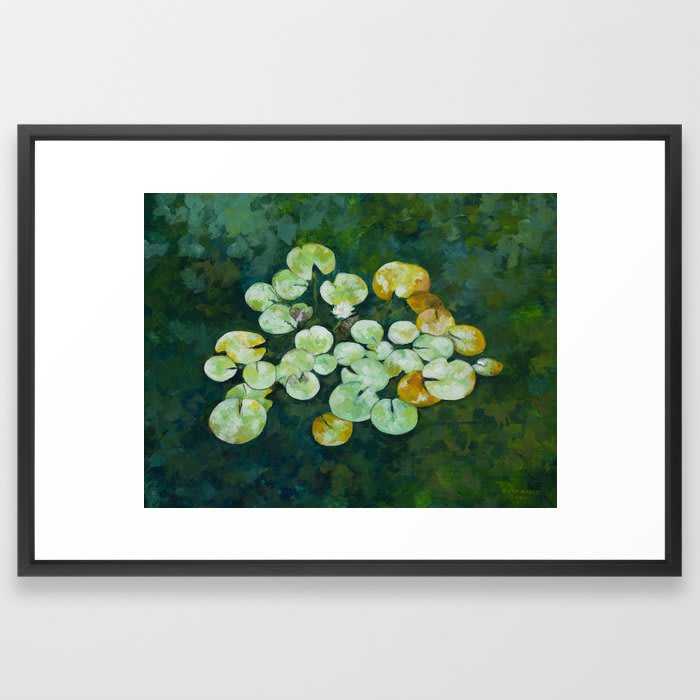 Society6 - Tranquil Lily Pond Framed Art Print
Did someone say tranquility? Look no further than Society6's lily pond artwork that screams spring decor 2021. Radiating a modern elegance, this nature-based print is a beautiful way to make guests feel right at home when hung in any room of the house.
8 of 50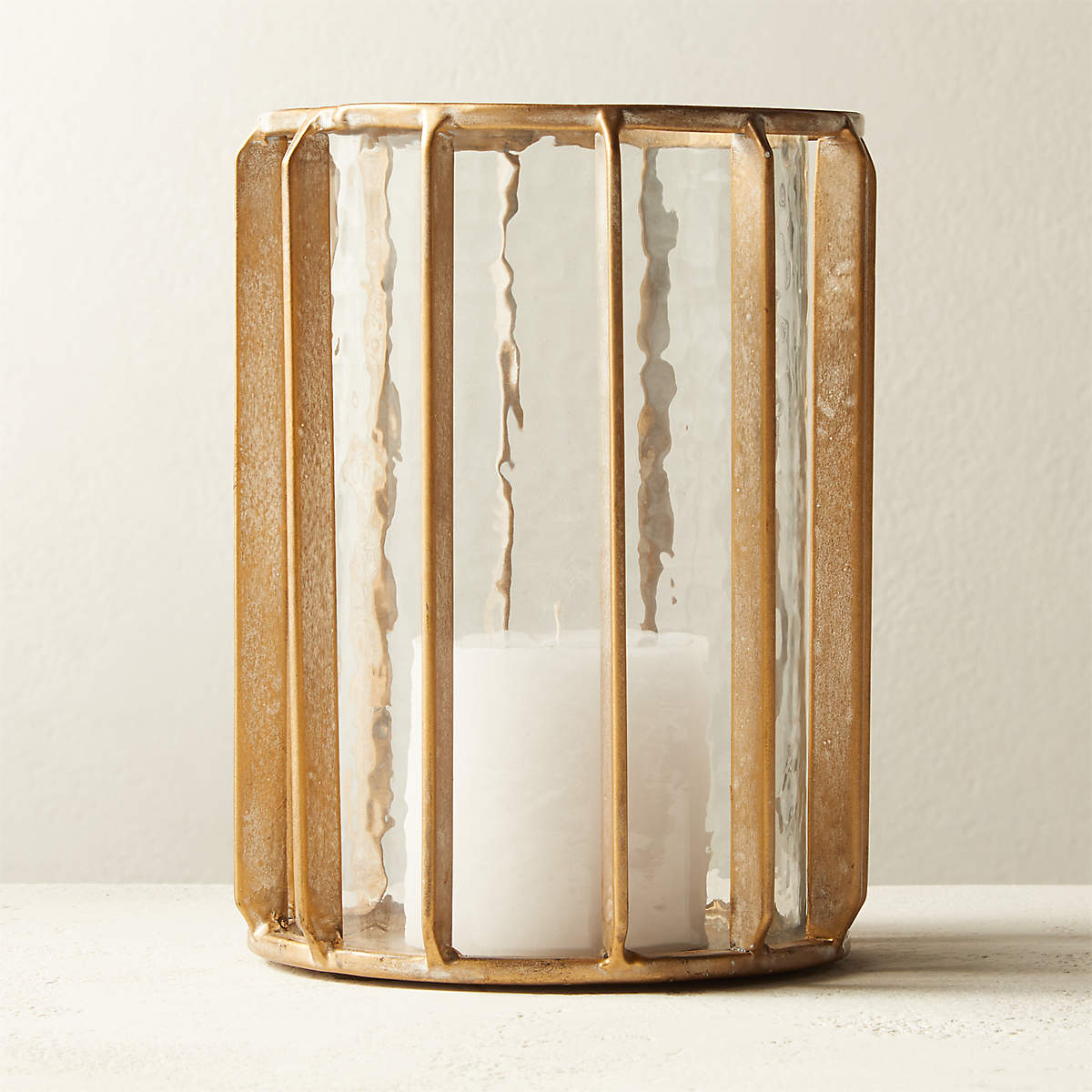 CB2 - Gamma Glass & Brass Hurricane
When refreshing your tabletop decor, especially for the spring, it's ideal to create a pairing of 2-4 items of varying heights to add interest to whatever surface you're designing. We love how these hurricanes mix brass and glass in the chicest way while remaining functional for candles.
9 of 50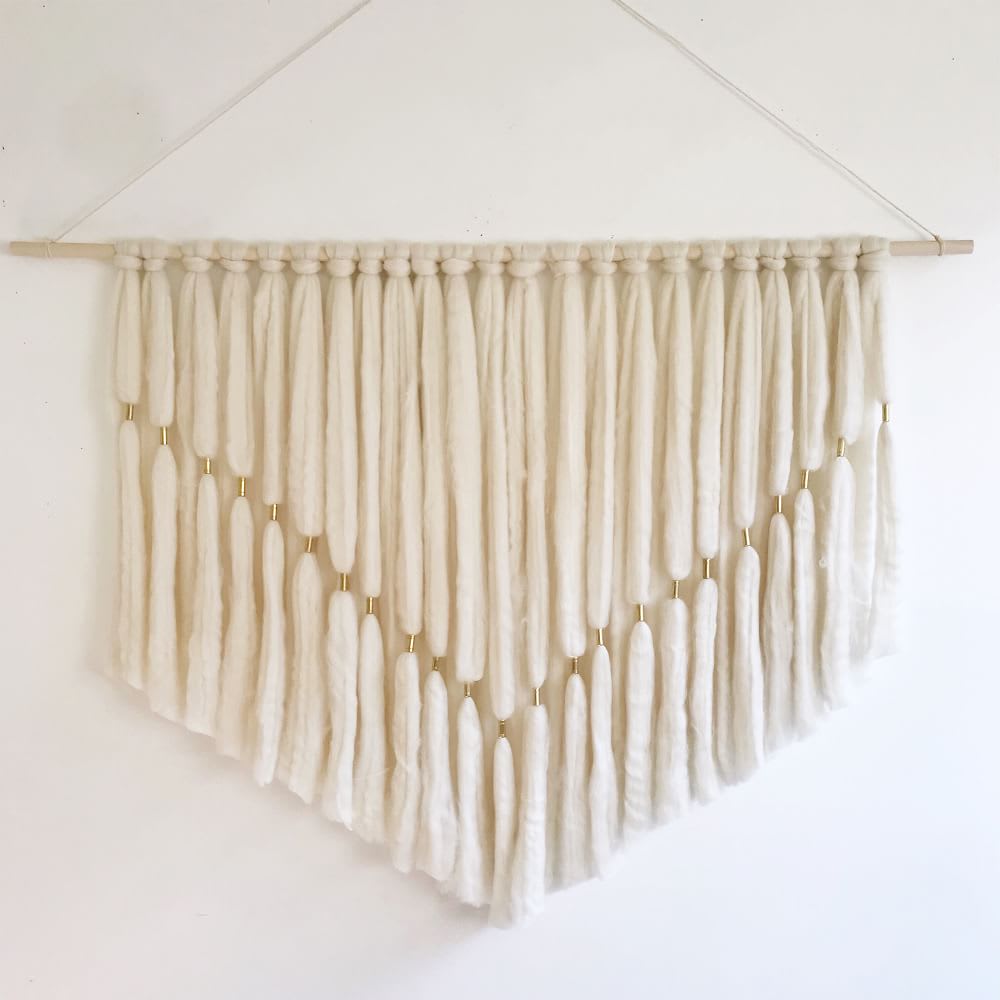 West Elm - Sunwoven Roven Wall Hanging
Does anyone else feel the love that we do for woven wall hangings? Whether you're a lover of color or immediately opt for the more neutral options when it comes to wall decor, West Elm has you covered. This stylish and natural sunwoven wall hanging comes in several colorways no matter how bold you wish to be! We'd be lying if we said this wasn't high in the rankings of our favorite spring decor recommendations.
10 of 50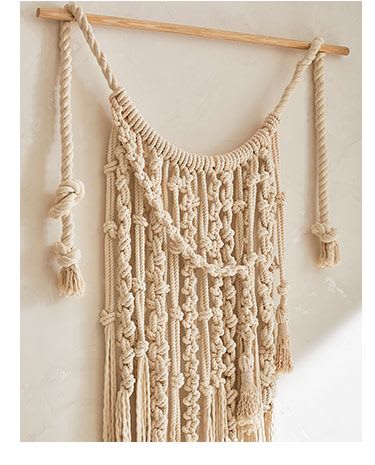 Pottery Barn - Shay Oversized Macrame Wall Art
Macrame is the perfect material to reflect the light and airy feeling of spring, and we 100% approve of its optimal use in your spring decor this year. This oversized piece is just the right size to hang above your bed or to create a statement in your entryway for all who enter.
11 of 50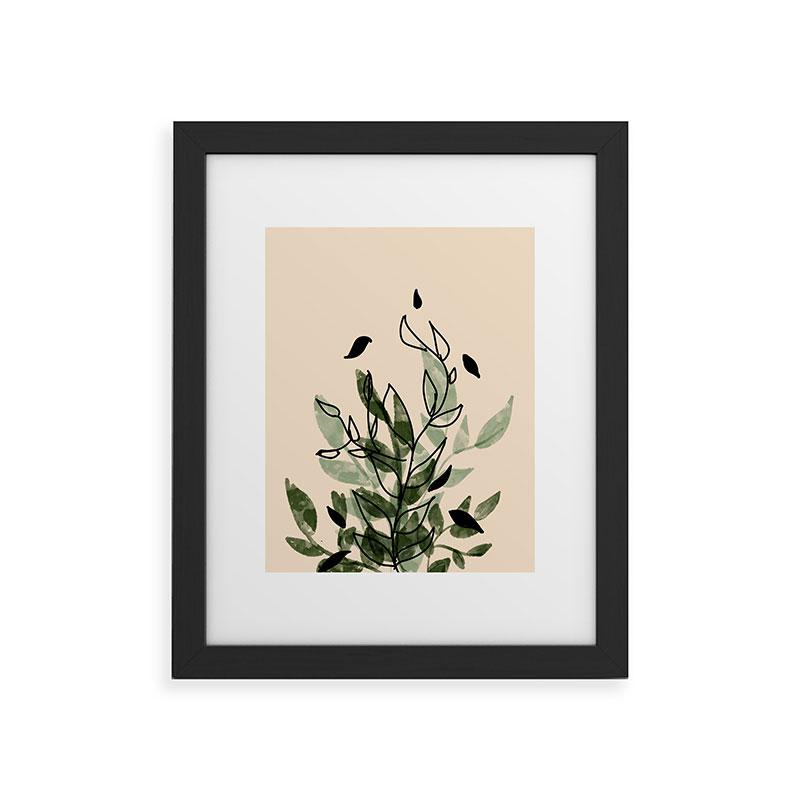 Deny Designs - Green & Black Leaves
As we mentioned, we love the color combo of green and pink year-round, but especially in regards to the spring season. Watercolor meets illustration with Deny Designs' lovely leaves art print, and we couldn't imagine a more artistic combination that would ring in the spring just the way we like it.
12 of 50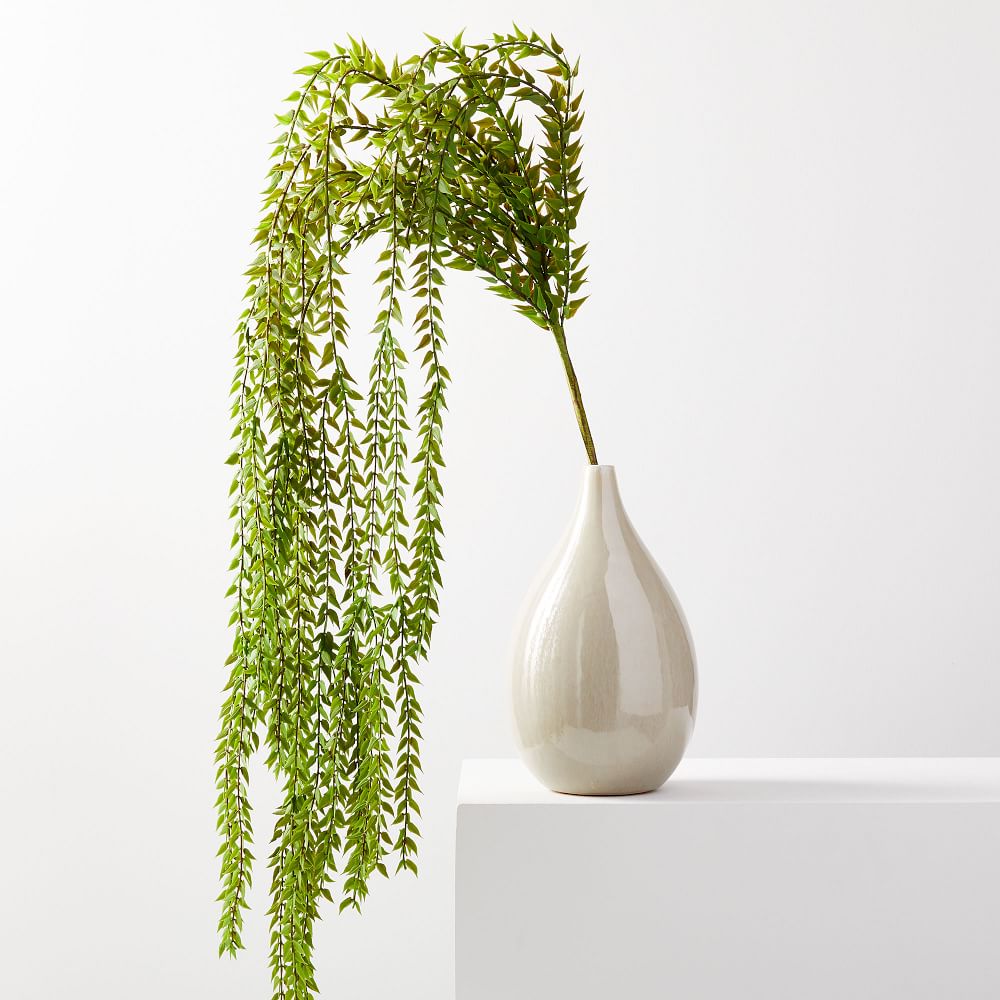 West Elm - Faux Baker Botanical Fern
Okay, now this is one product we can't let you pass up without at least giving it a chance. This flowing botanical fern is just the right piece to add to any one of your stylish vases - and it requires no work from you! Your spring decor just leveled up.
13 of 50
West Elm - Brass + Glass Globe Centerpiece
One of our favorite ways to make a statement is through the perfect spring centerpiece. Unlike any other, this elongated brass and glass candleholder is to die for. Whether your spring decor style is mid-century, glam, or modern, this piece will effortlessly fit right in.
14 of 50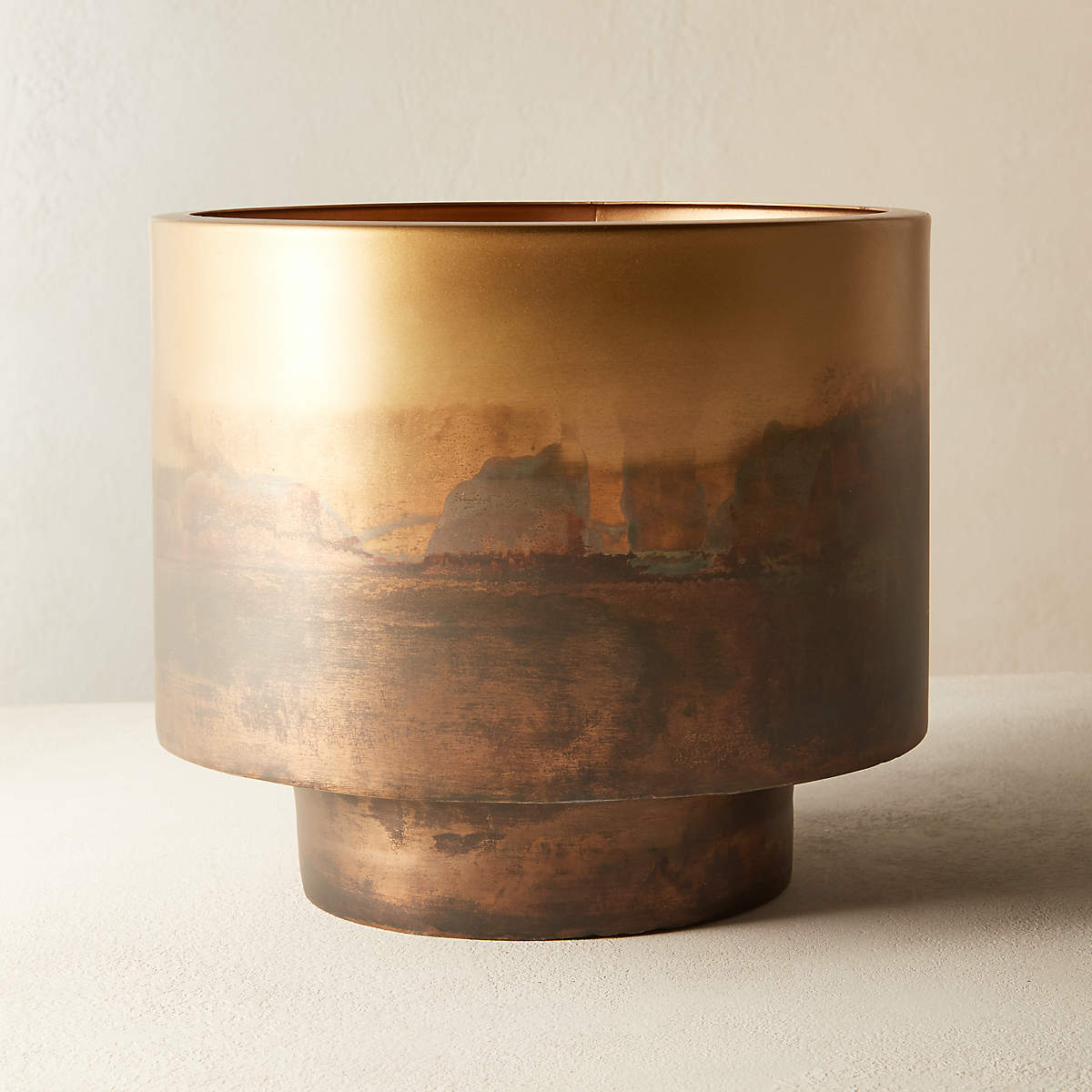 CB2 - Sahara Brass Planter
Boy do we love that hollywood glam aesthetic, and you will do after seeing this brass planter from CB2. Coated in a metallic finish, there couldn't be a more stylish way to home your new (or old) plant! Spring decor, say no more.
15 of 50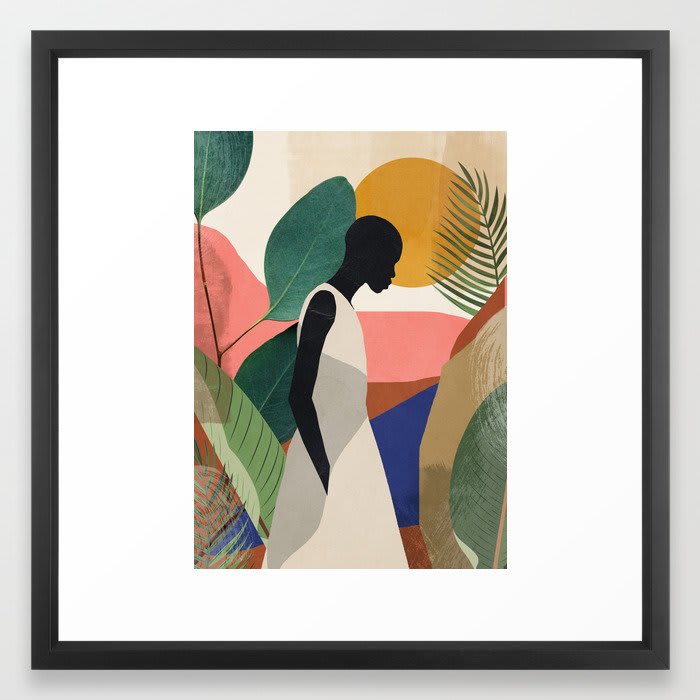 Society6 - Tropical Girl Framed Art Print
We know we have our fair share of eclectic lovers out there. We are with you! If you're all about female empowerment, what better artwork to display in your space than this spring-inspired tropical artwork that's bound to turn heads in the best way possible. This piece emanates confidence, and that's exactly what an interior should do.
16 of 50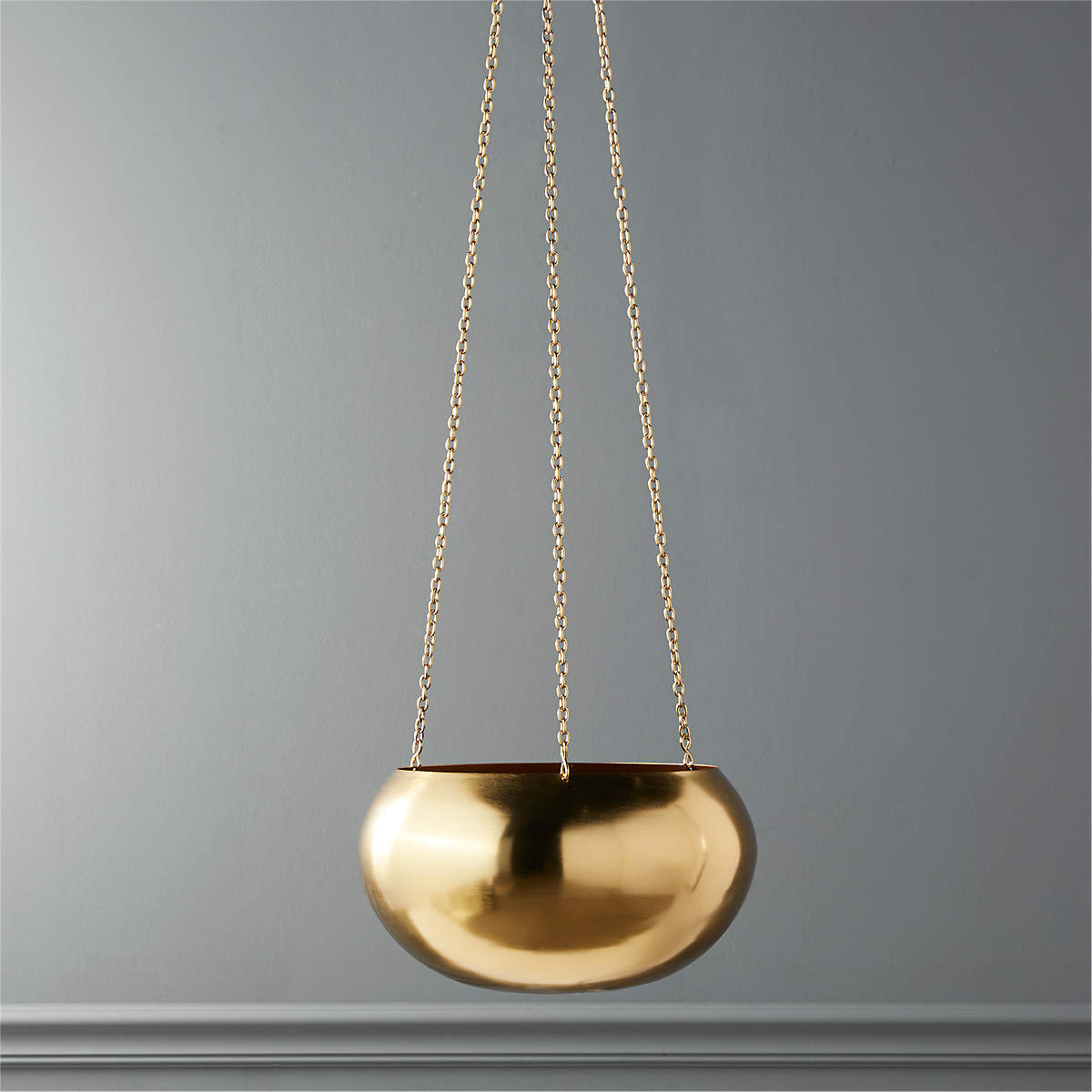 CB2 - Raj Gold Hanging Planter
Greenery and brass - is there a better combo to bring spring into your own home, after all? We can't get over how chic this hanging planter is from CB2, nor can we get over the reasonable price point of this beauty! If you need the perfect finishing touch for your space and just can't put your finger on what it should be, look no further.
17 of 50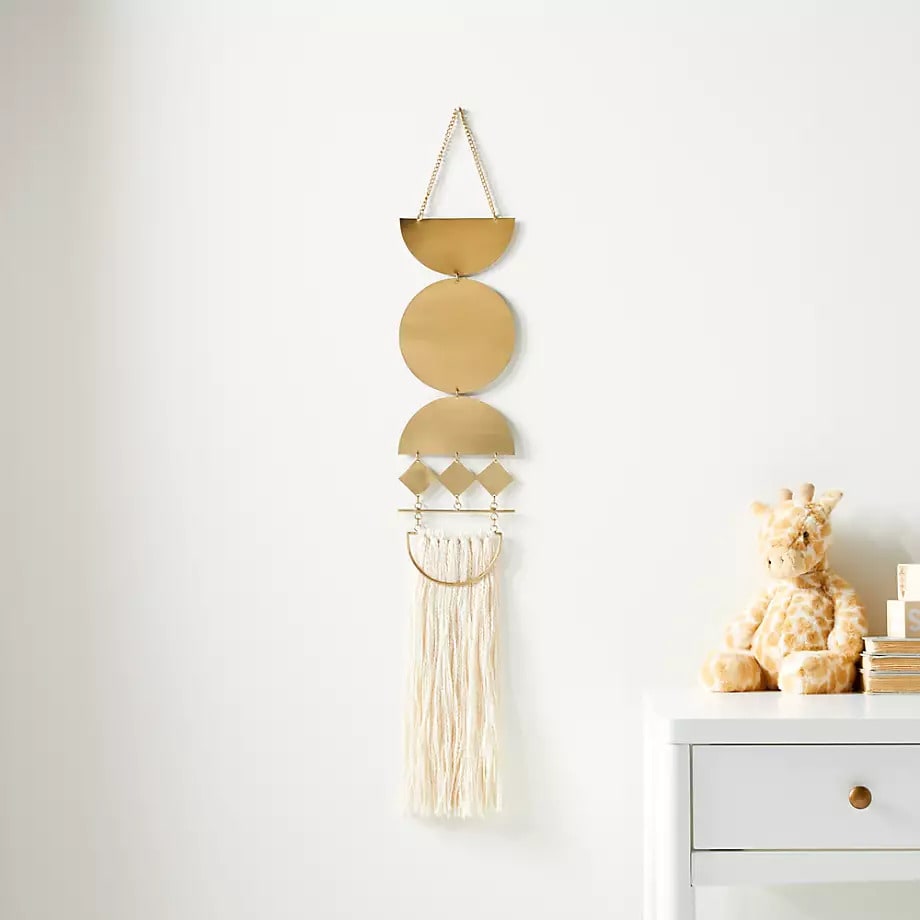 Crate & Kids - Mixed Material Wall Hanging
Who says kids can't bring spring into their spaces, too? Not us! We love this mixed material wall decor that we believe would spark just the right amount of creativity for your little ones, possibly even inspiring their own DIY spring decor ideas!
18 of 50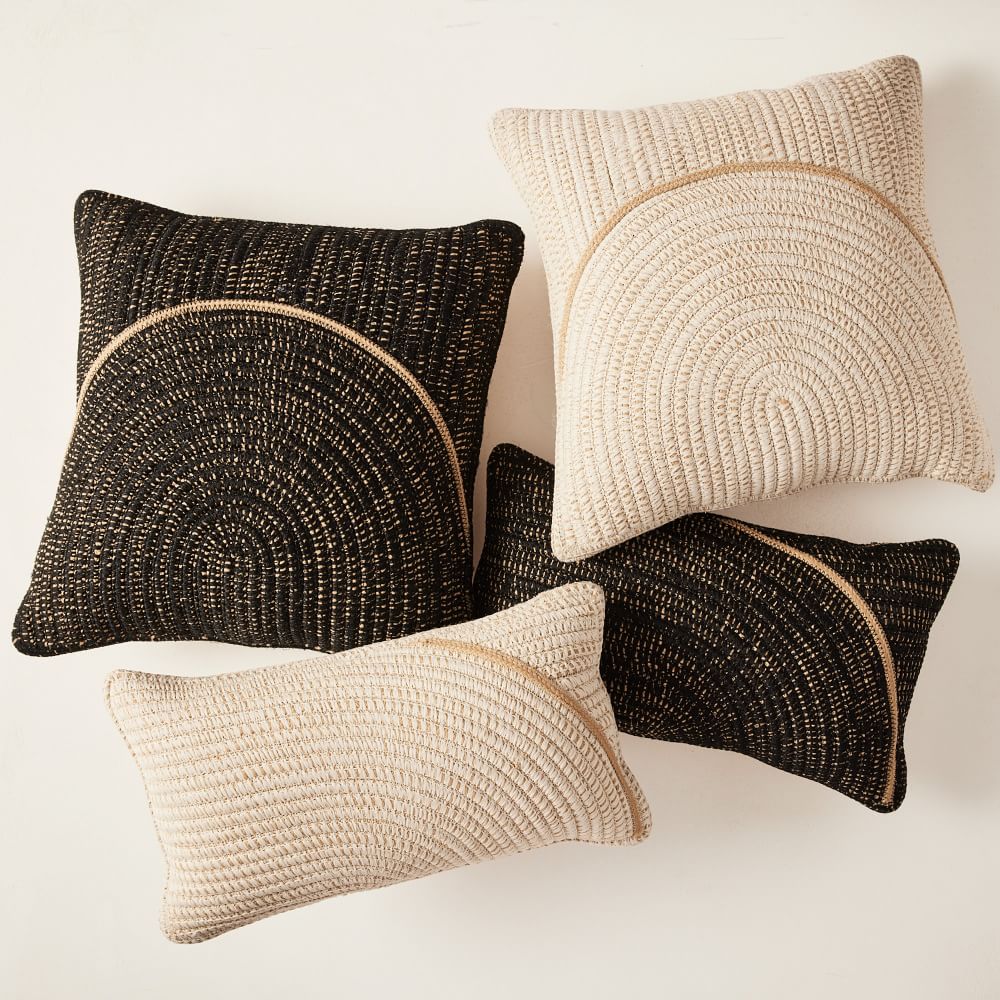 West Elm - Woven Arches Indoor/Outdoor Pillow
Does your sun porch need a major spring refresh? These woven pillows would love to be a part of it. Great for both indoor and outdoor spaces, this decorative pillow also comes in a lumbar size for laying, as well as two colorways to utilize in your spring decor. The simple yet subtle pattern brings any space to life in the simplest of ways.
19 of 50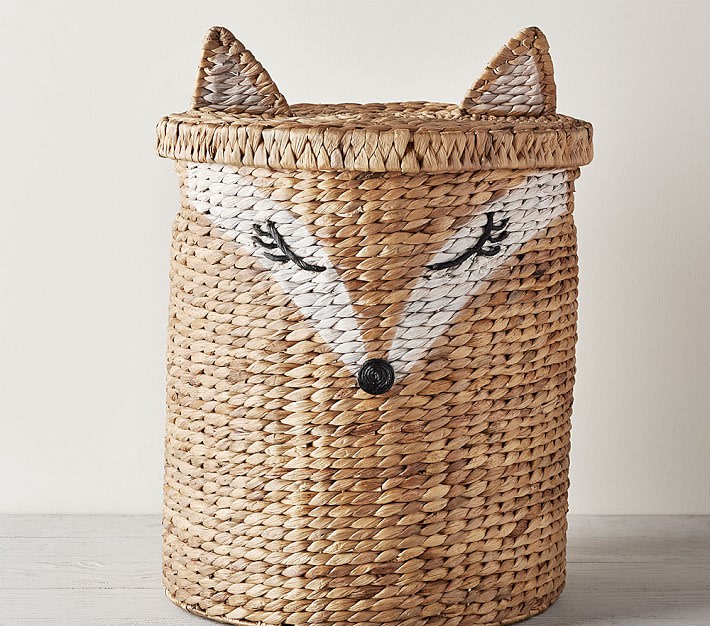 Pottery Barn - Shaped Fox Storage
Kids just wanna have fun. They couldn't care less about decorating for the spring, but we know they will care about this fun and playful fox basket that's perfect for bringing those natural textures and materials to their space, too. Pottery Barn also offers several other animal-themed baskets - this is just our favorite.
20 of 50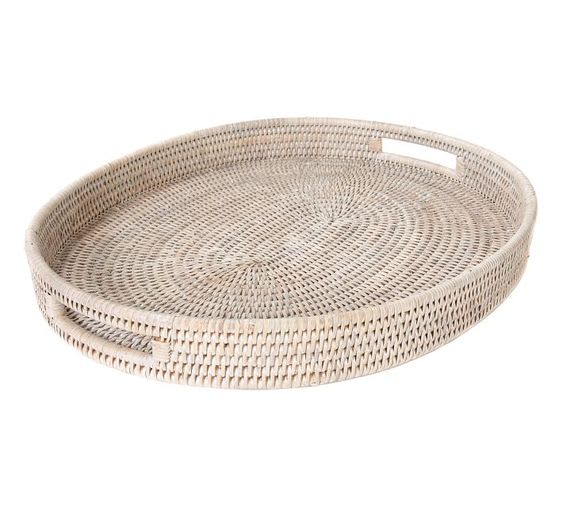 Pottery Barn - Tava Handwoven Rattan Oval Serving Tray
If you've never owned a decorative tray, you probably don't know how useful they really can be. Serve drinks, use as spring tabletop decor, or showcase your towels for guests on them in the bathroom - and that's only some of the ways you can utilize this cozy rattan tray. We also highly recommend breakfast in bed be served on it! Just tell your significant other we said so.
21 of 50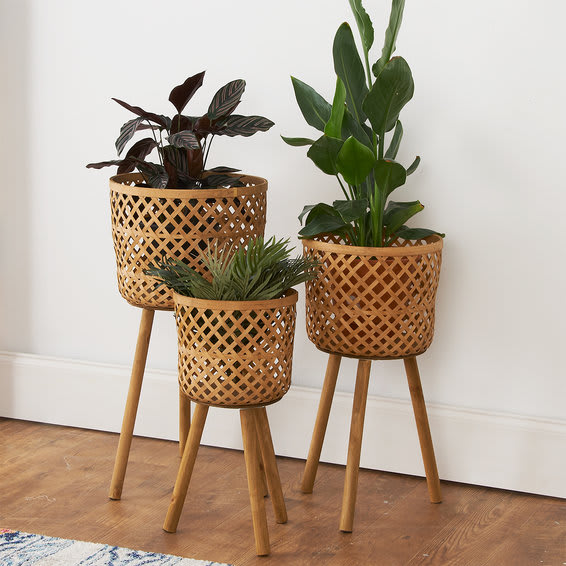 Shades of Light - Woven Standing Basket
Have unstoppable pets who won't stop tearing your plants to shreds? We love these standing baskets for that reason as they keep plants off the floor and away from unruly pups! These planters come in a set of three, giving you more bang for your buck all around.
22 of 50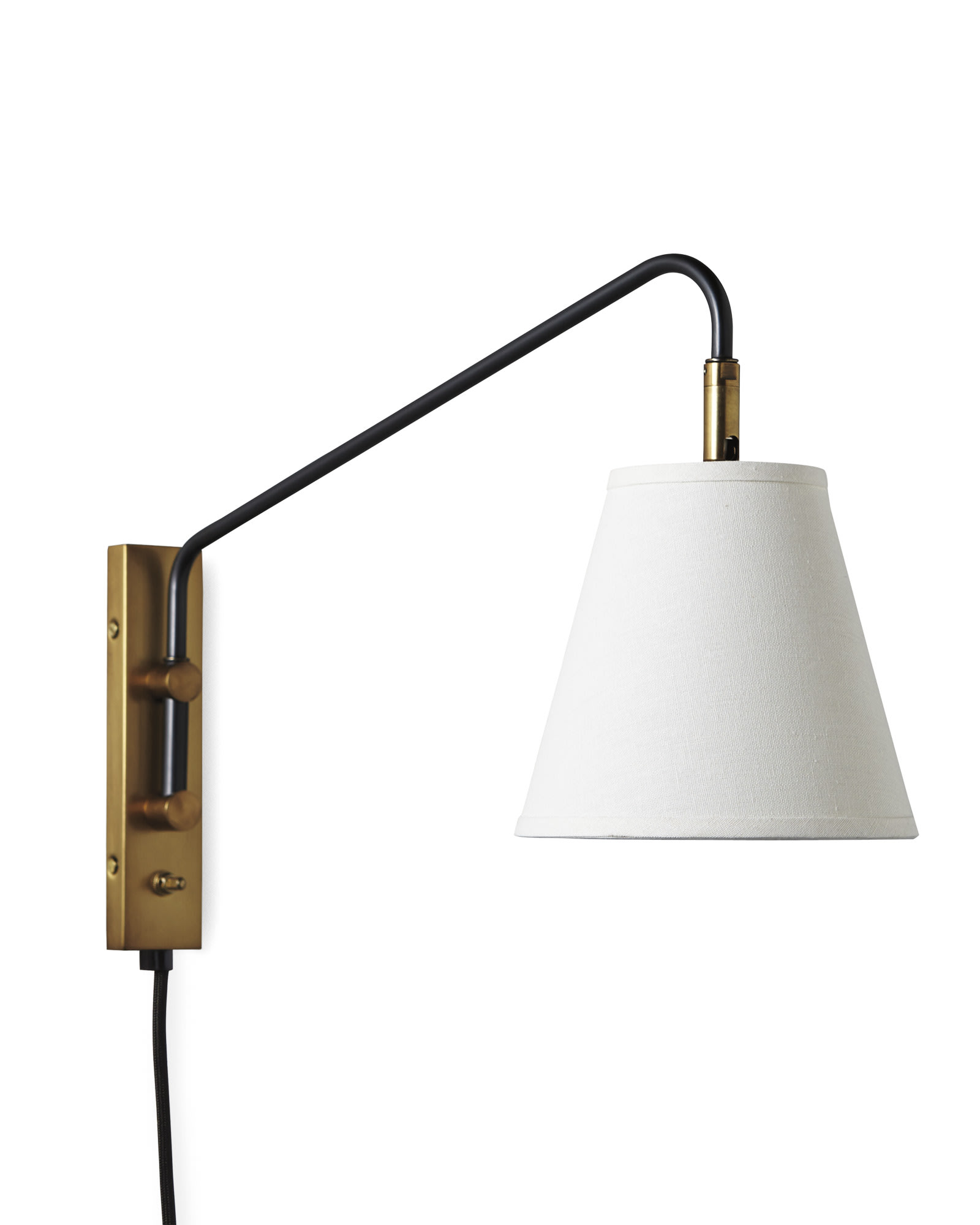 Serena & Lily - Flynn Single Wall Sconce
Mixing wood and metals is also a not-so-thought-of way to incorporate spring decor trends in 2021. This wall sconce is the perfect example of a stylish piece that remains current throughout the year, not to mention the ideal way to illuminate your personal oasis above your nightstand.
23 of 50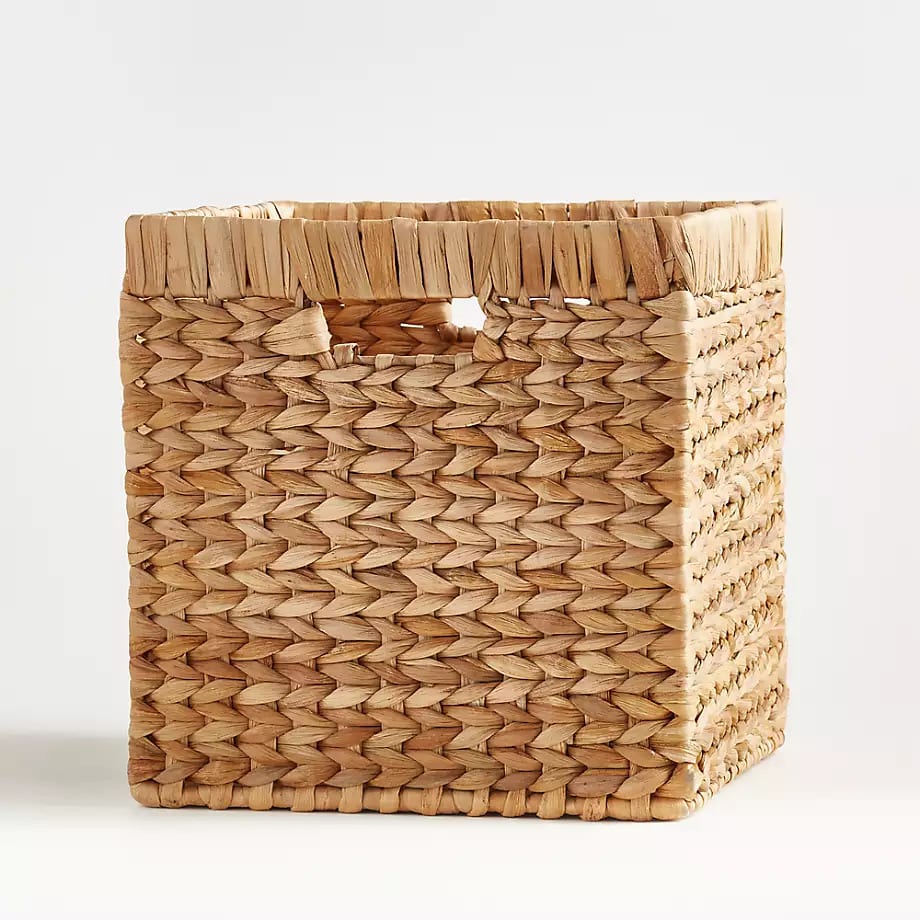 Crate & Barrel - Natural Wonderful Wicker Cube
A great way to bring the natural airiness of spring decor into everyday items in your home is through storage solutions. A simple swap of metal or plastic baskets with seagrass or wicker additions is as simple as it sounds, and much more welcoming!
24 of 50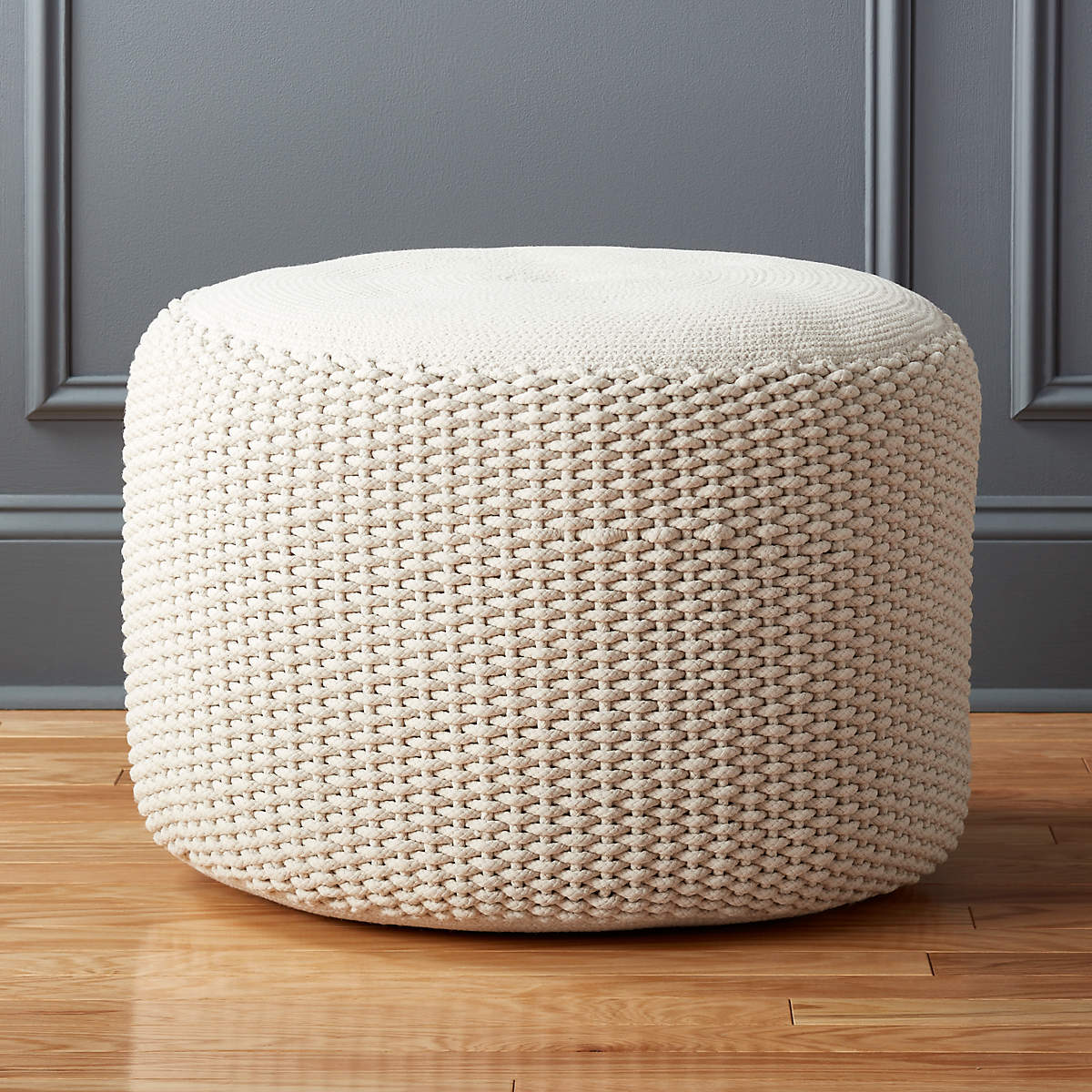 CB2 - Criss Knit Natural Pouf
Versatility in products is key for interior design, and this knit pouf fits that standard to a T. CB2 offers this pouf that's perfect for resting your feet or using for added seating in several neutral hues, and we are here for all of them. If you want to use the lighter hues for spring decor and the darker neutrals for the winter months, we will join you!
25 of 50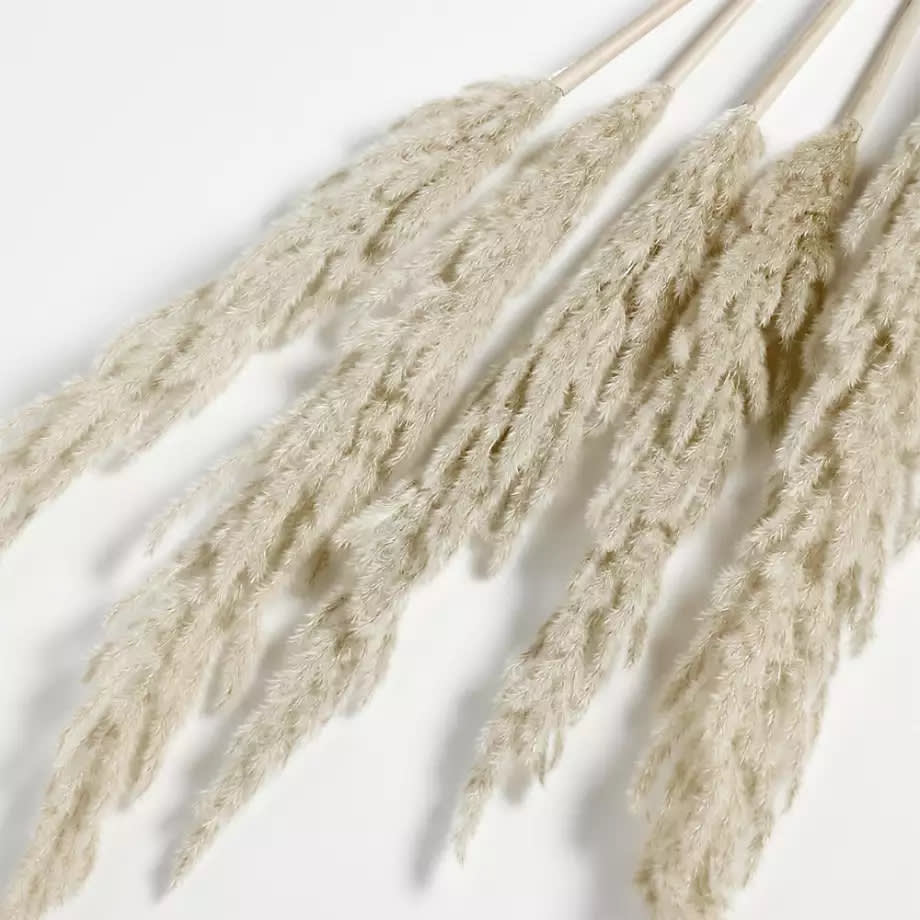 Crate & Barrel - Dried Plume Grass
Yes, the natural grass got us again. We love it so much, and you should too. This fluffy bundle of beauty adds the right kind of drama to any space it's used in, and is the spring decor you're missing in your life. We are also crazy about the texture it brings to the table - literally.
26 of 50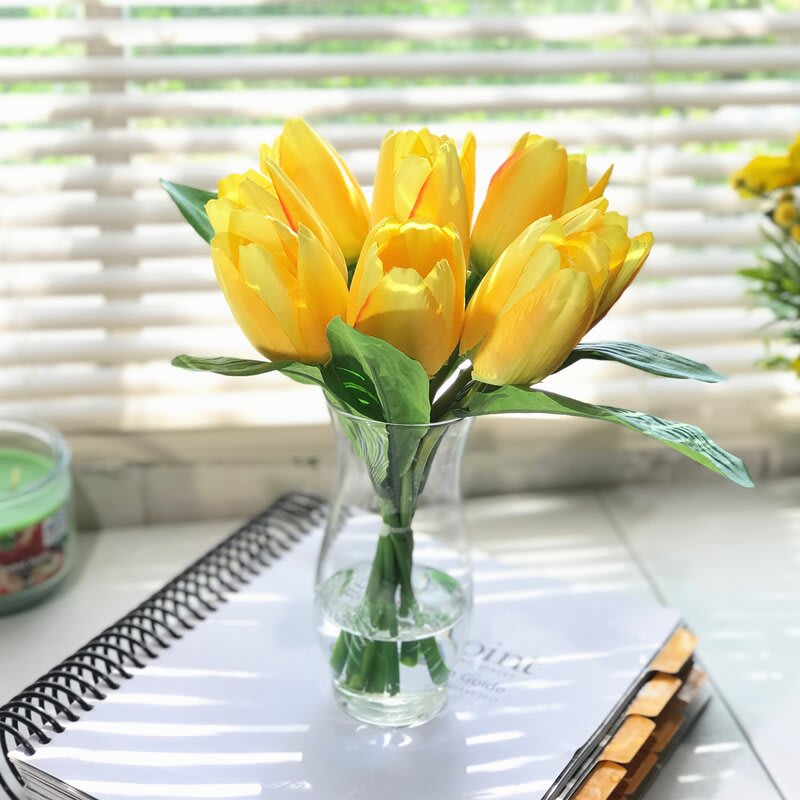 Wayfair - Tulips Centerpiece in Vase
We all love a pop of color here and there, and these tulips from Wayfair get the job done. If you don't love yellow, that's okay! They also offer them in several other colors that all would be the perfect finishing touch for your spring home decor.
27 of 50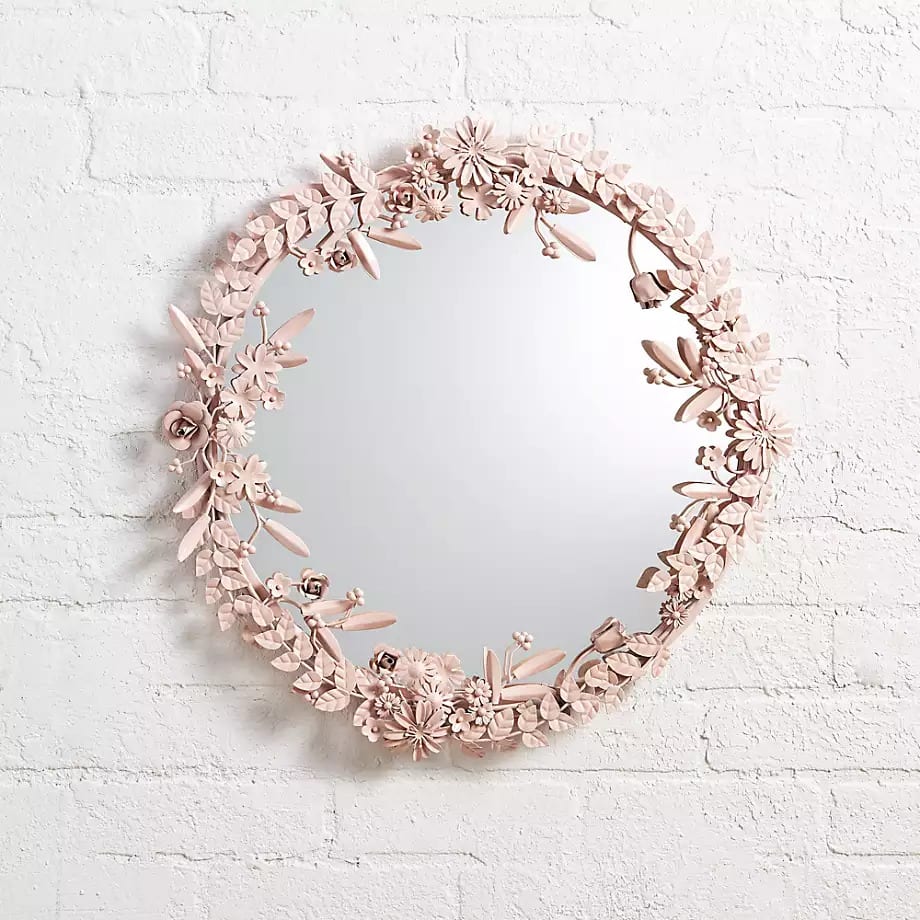 Crate & Barrel - Flower Crown Wall Mirror
If you love flowers, adore pink, and like looking at yourself in the mirror (we all do it), look no further. Composed of glass and a metal frame, this is the statement piece your spring decor is missing. This beautiful mirror is perfect for little girls' rooms, but we approve of anywhere you'd want to utilize it in your own home!
28 of 50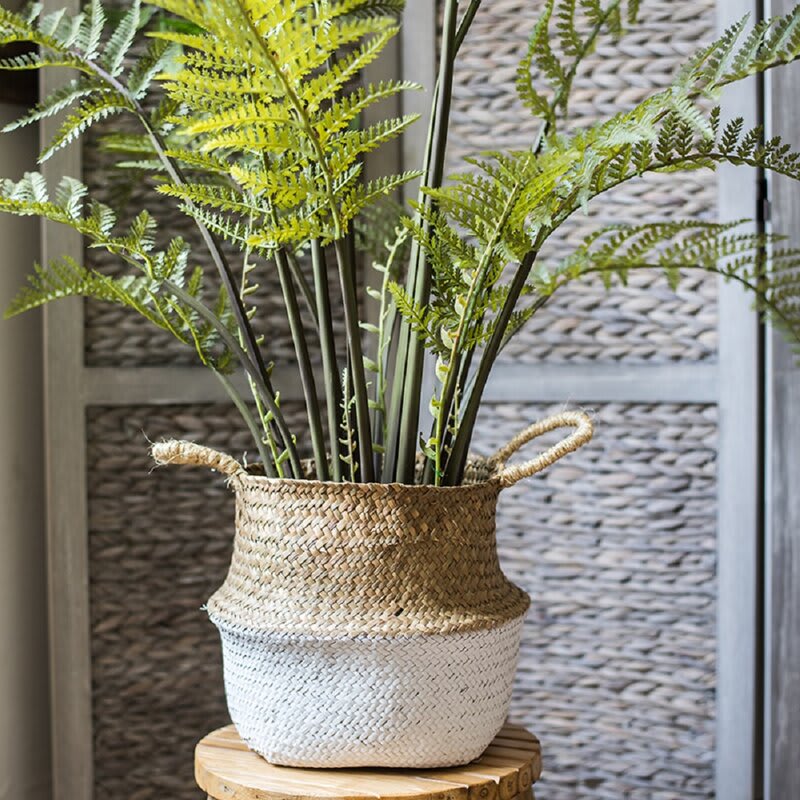 Wayfair - Pop Up Belly Wicker Basket
We have nurseries covered, too, when it comes to bringing spring decor to all spaces in your home. We can't get over how much we adore the two-tone aspect of this wicker basket, not to mention its unique shape and ability to be used as both storage and a planter.
29 of 50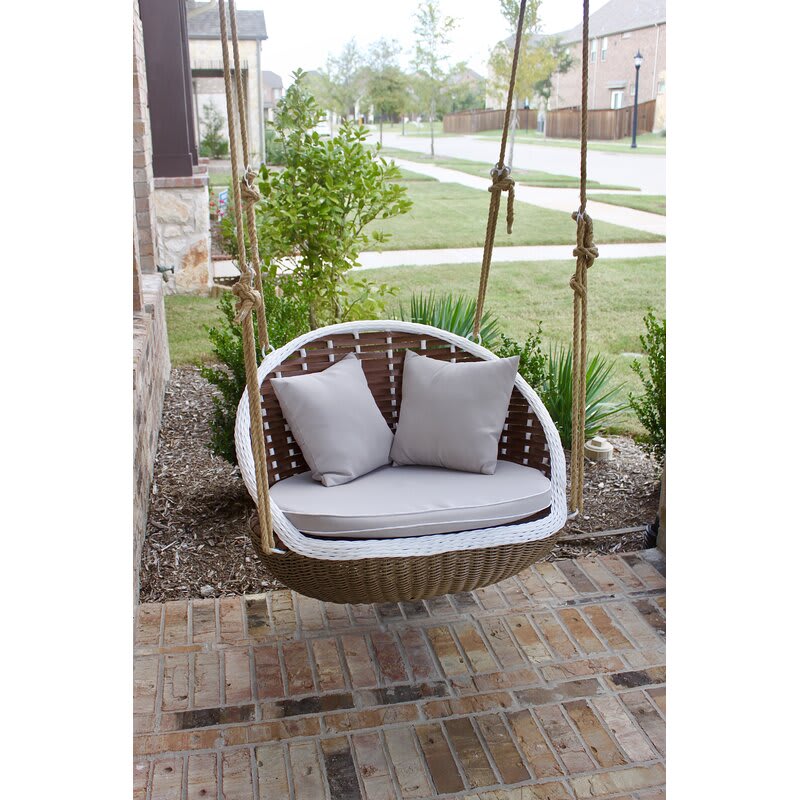 Wayfair - Albanese Unique Design Porch Swing
One of our favorite recommendations that's fun for the whole family is this hanging porch swing. We love when the nature textures of Bohemian and mid-century pieces are mixed with neutral, coastal colors that radiate both spring and summer!
30 of 50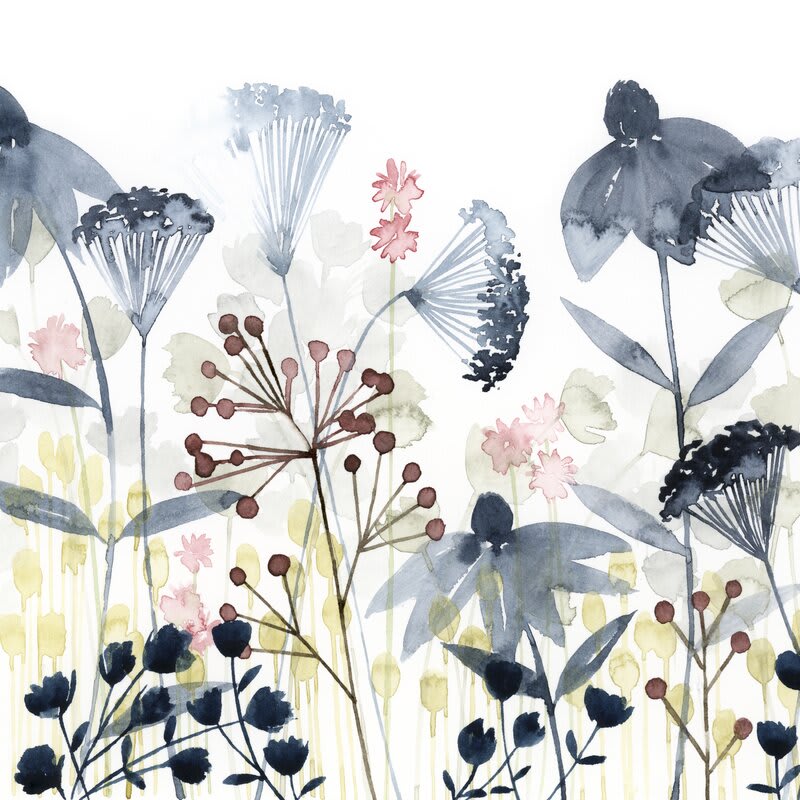 Joss & Main - 'Layered Gardens I' Wrapped Canvas Painting on Canvas
Keep your garden pretty by leaving it unpicked and instead bring flowers into your spring decor with this large wrapped canvas artwork instead. Pastel shades, a watercolor base, and a floral theme - what more could you ask for?
31 of 50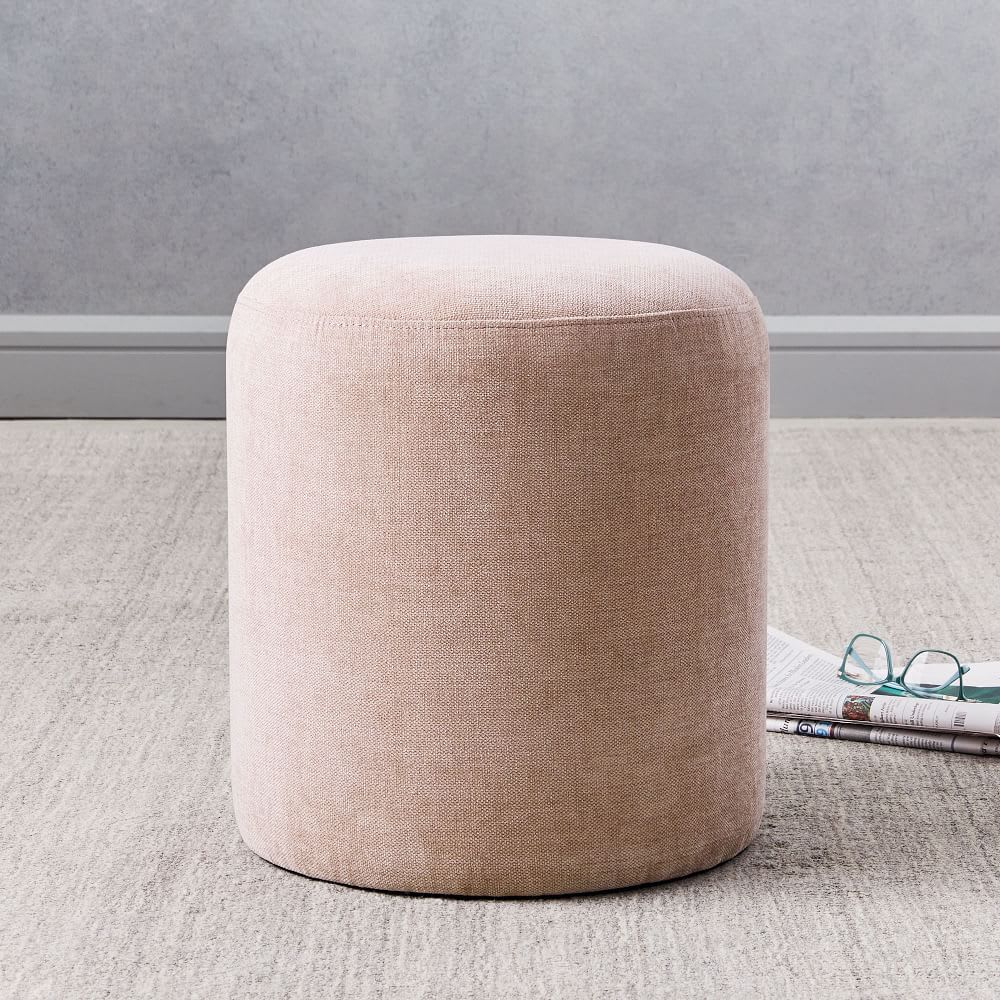 West Elm - Auburn Ottoman
We aren't joking when we tell you that this ottoman is as multi-functional as it is gorgeous. Put your feet up, bring in a drink tray, or utilize for extra seating - West Elm's chic Auburn Ottoman is here for it. Even better, it comes in a plethora of colors. We love the way this blush hue creates a look that makes it the spring home decor you didn't know you needed - but definitely do.
32 of 50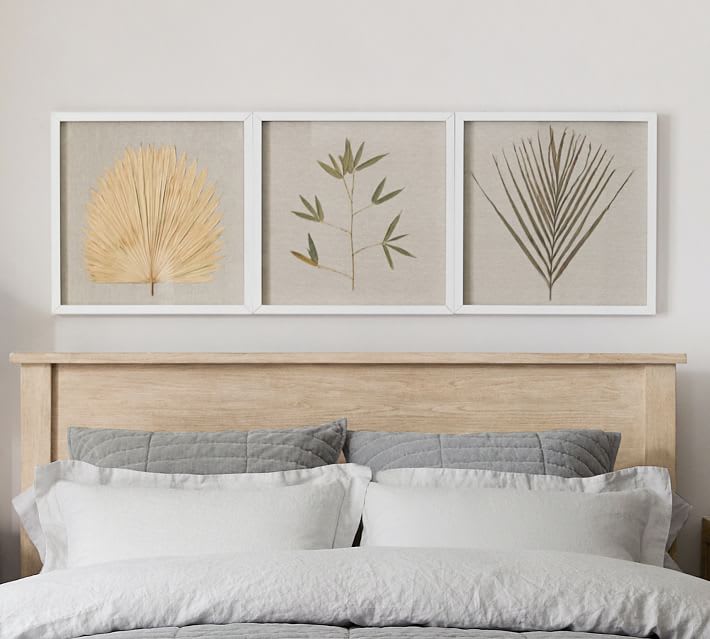 Pottery Barn - Fronds Shadow Box Wall Art - Set of 3
You know what's better than one piece of art? Three pieces of art. We are OBSESSED with the natural vibe this shadow box wall art adds to every space, and as you know by now, we love greenery just as much. If you like the idea but are not sold on the pieces themselves, use this as your opportunity to create your own DIY spring decor this season!
33 of 50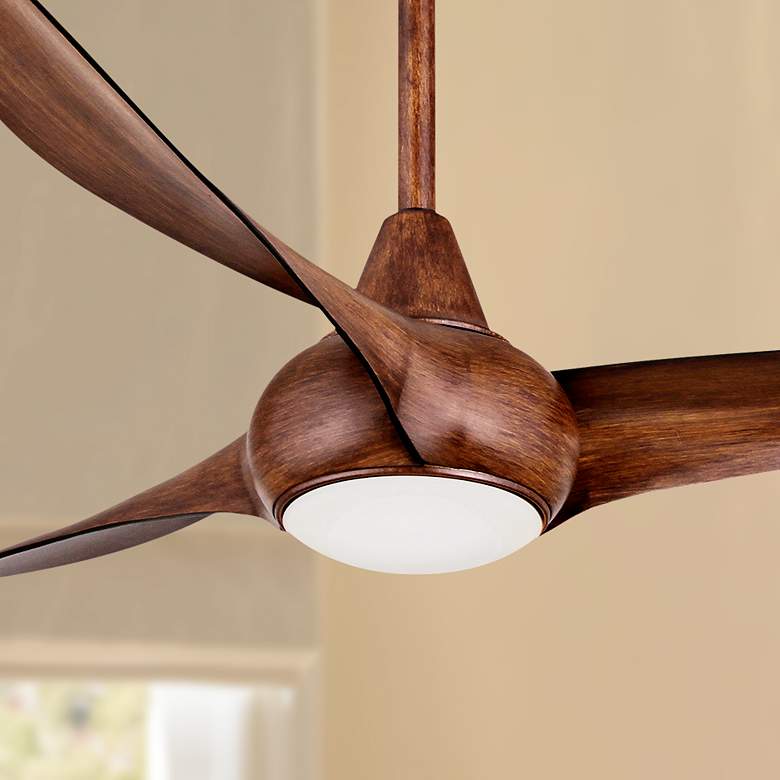 Lamps Plus - 52" Minka Aire Light Wave Distressed Koa Ceiling Fan
If you're looking for a sleek and stylish way to add character to your space, we highly recommend this distressed mid-century modern ceiling fan from Lamps Plus. Throw out that old, dusty fan that came with the house all those years ago and refresh your look with this perfect spring decor addition - you deserve it.
34 of 50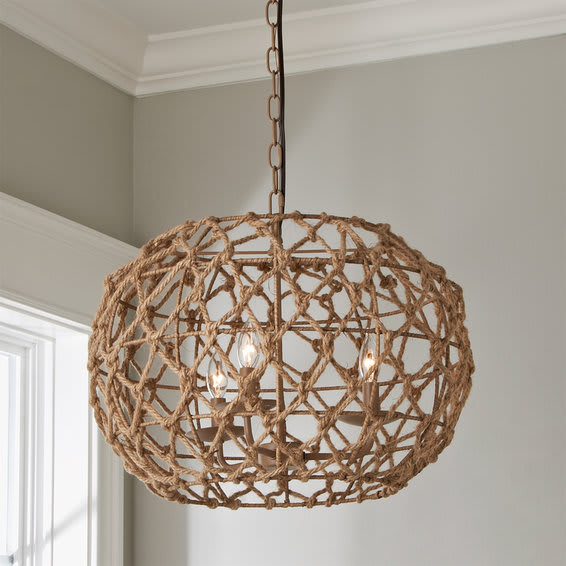 Shades of Light - Rope Frame Chandelier
We can't explain how much this naturally-woven rope chandelier lights up our lives. Whether above the dining table, island, or as the focal point in another room of the home, this jaw-dropping chandelier is one to look out for. Who says spring decor has to rely primarily on a swap of pillows, greenery, and decorative objects anyway?
35 of 50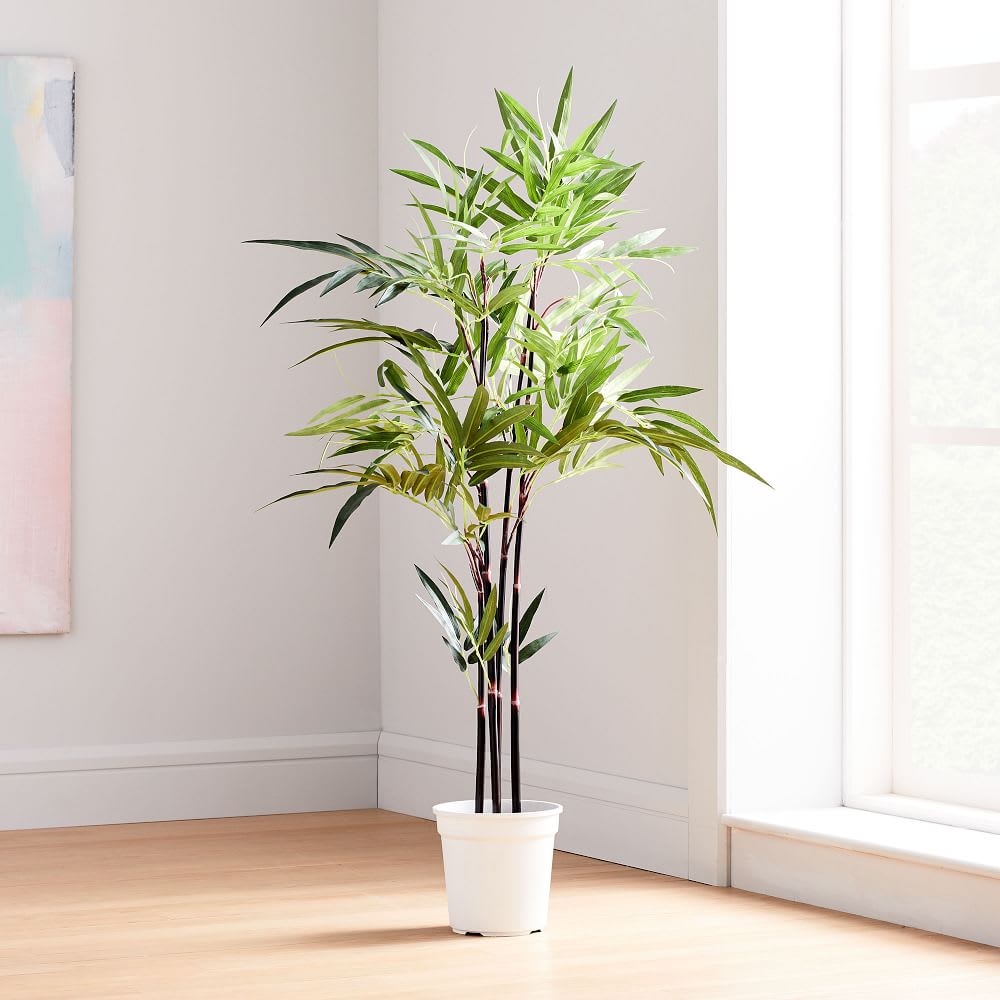 West Elm - Faux Potted Green Fern Plant Tree
There is nothing we love more than tabletop plants - until we get to floor plants. The bigger the better they say. Emitting an effortless breath of fresh air into your home, this faux tree is one of our go-tos as spring rolls around.
36 of 50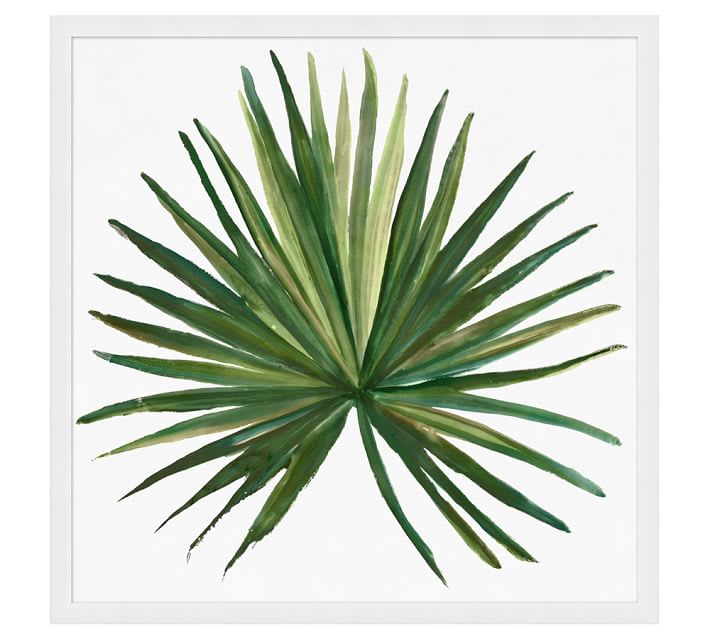 Pottery Barn - Tropical Palm Plant Print
Not for the look of faux/natural greenery? We have you covered. Instead, bring the outdoors in through the use of topical artwork that'll bring back memories from trips to the beach and vacations in the sun. This palm print begs to be the newest addition of your spring gallery wall!
37 of 50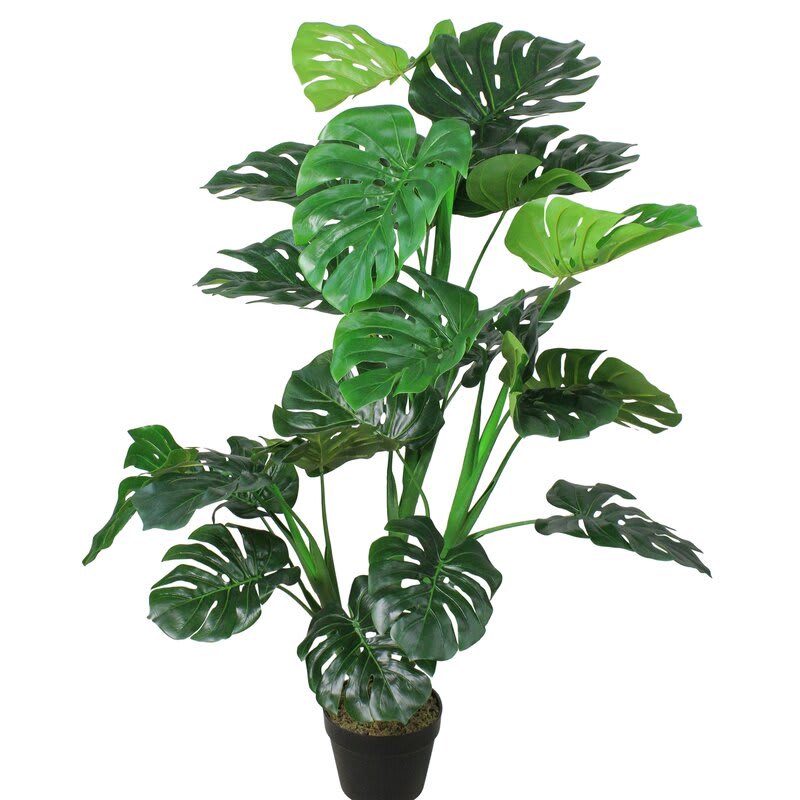 Wayfair - Potted Monstera Plant
Monstera plants are worth all of the new hype they have gotten in the past few years, and we couldn't agree more. This beautiful piece of greenery is the ideal accent piece to add to this year's spring decor, and we definitely don't think you should stop at just one.
38 of 50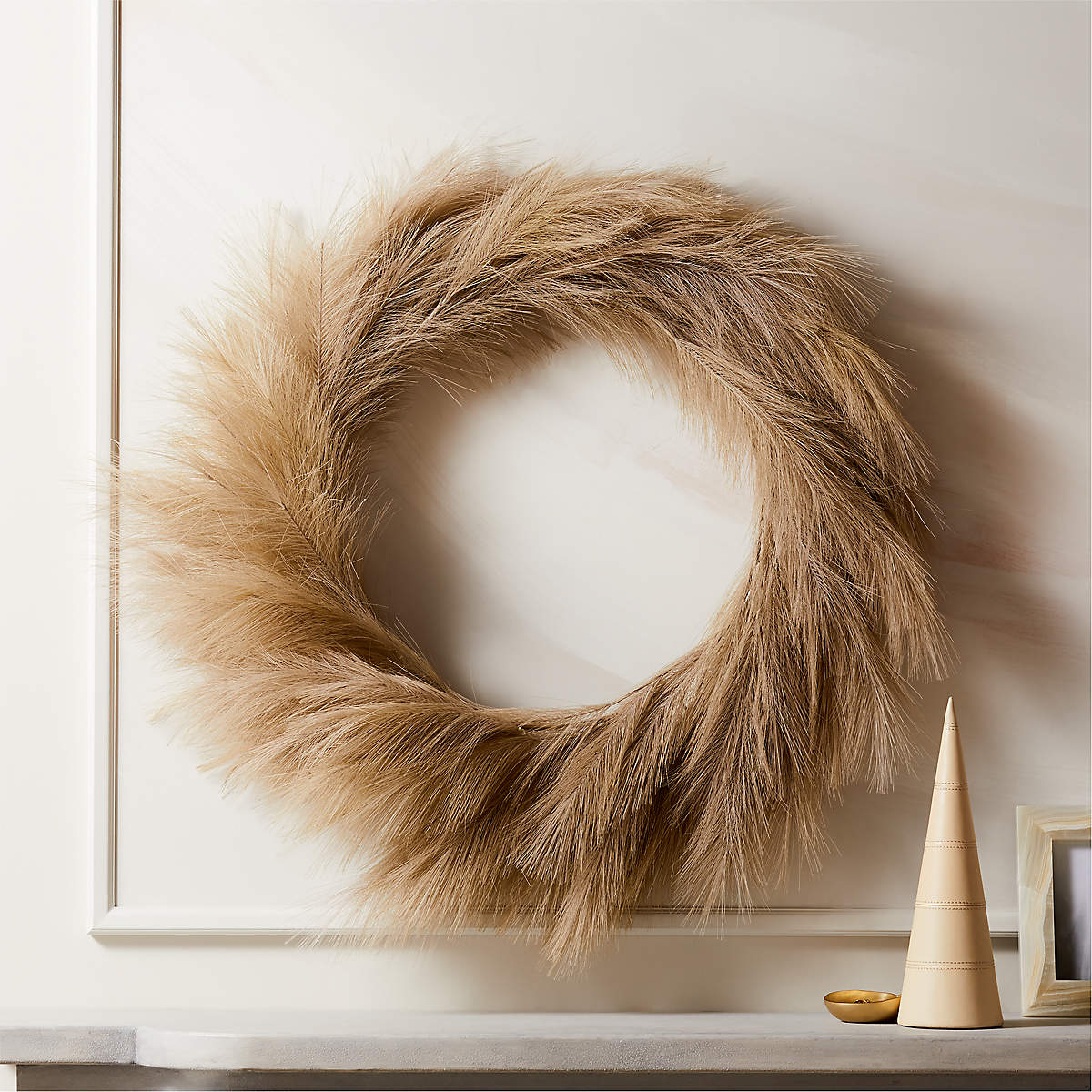 CB2 - Faux Pampas Wreath
We couldn't leave you or your front door hanging without introducing one of our favorite spring decor elements - pampas grass. There isn't a more welcoming way to invite guests in as we are getting closer to reuniting with loved ones than CB2's blissful faux pampas wreath. If you love pampas grass even more, it's also a great addition above the mantel for a stunning focal piece.
39 of 50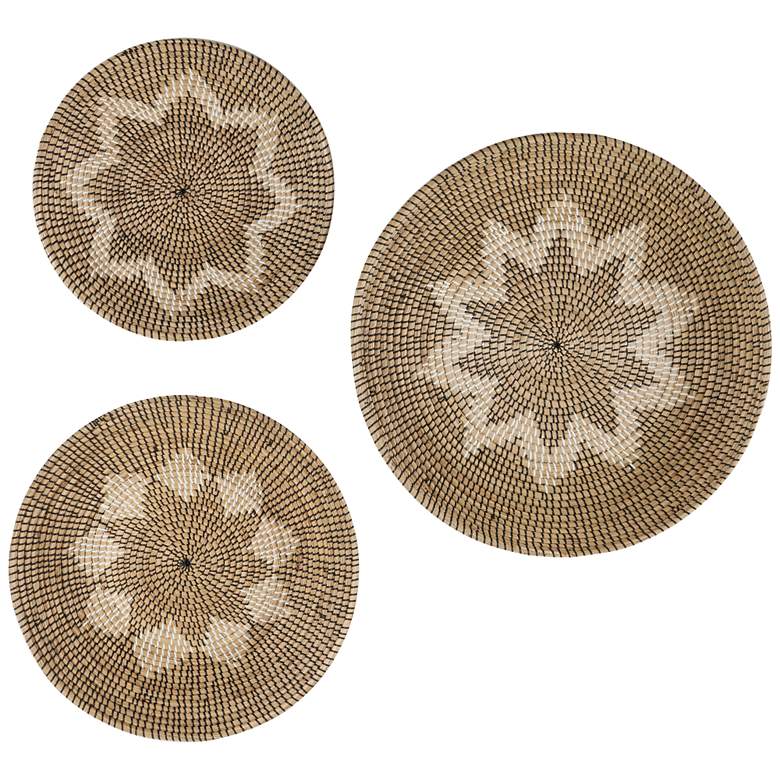 Lamps Plus - Brown and Beige Star Seagrass 3-Piece Round Wall Art Set
A great way to add a natural element to your space if you aren't a fan of framed artwork is the use of wall baskets. While there's a variety of colors and patterns to choose from depending on the basket, we love this 3-piece set for its subtle yet stylish natural star woven pattern. Though great for a spring decor idea, these baskets can be utilized in any season and never go out of style.
40 of 50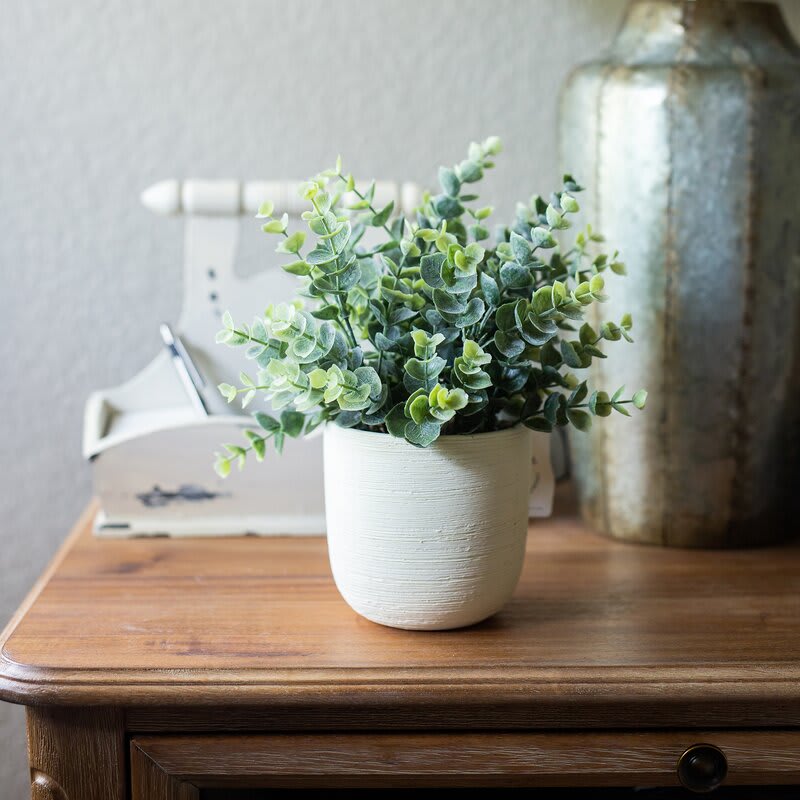 Wayfair - Texture Eucalyptus Plant in Pot
We love to bring the outdoors inside in the simplest of ways. It doesn't get easier than utilizing small succulents around the home for your spring home decor, especially with this precious eucalyptus plant that adds both color and texture to any space in your home.
41 of 50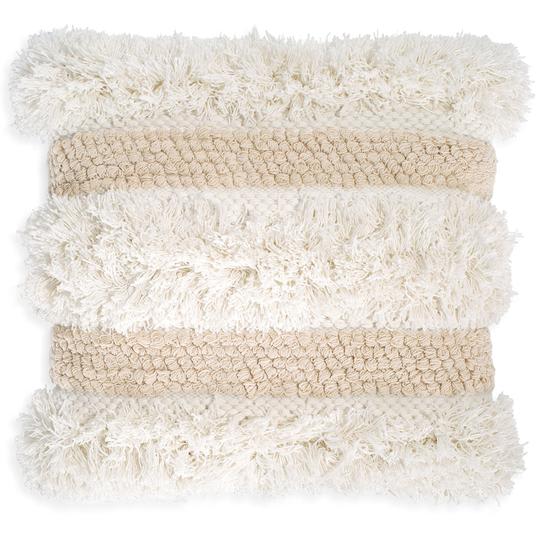 PolyandBark - Tenzin Throw Pillow
Nothing makes us want to cozy up more than this natural woven cotton pillow from Poly & Bark. Pair this piece with any of our bolder recommended spring decor pillows for an unbeatable duo that will beg to be added to your sofa!
42 of 50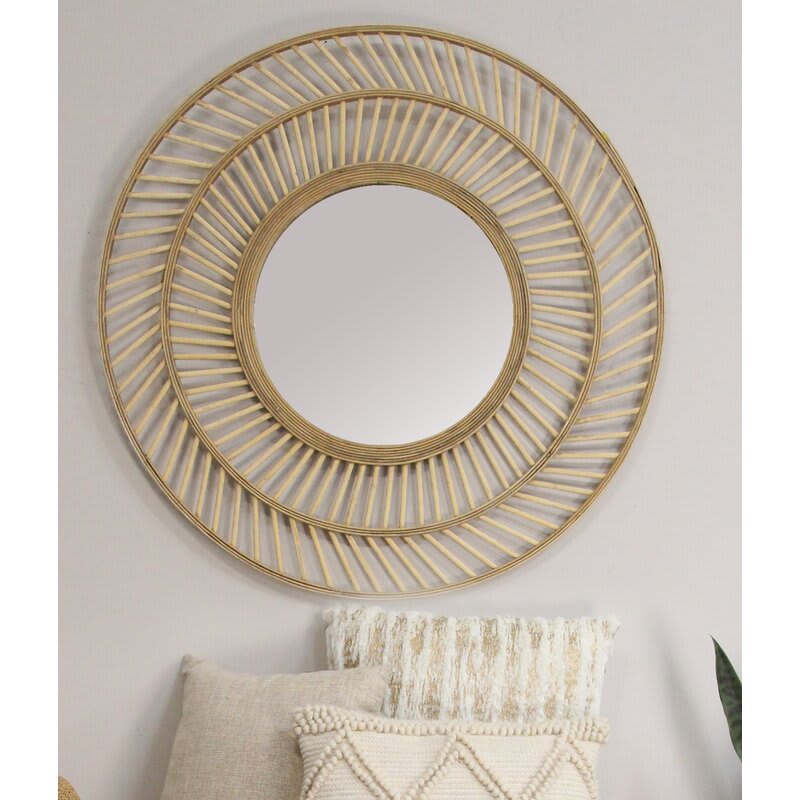 Wayfair - Trosper Rattan Eclectic Accent Mirror
Not even we can beat the budget of this statement mirror, composed of natural rattan that's the go-to for spring decor. This is one of our favorite spring wall decor items to add to entryways, above the mantel, or in your bedroom for morning preparation. If you're in favor of Bohemian decor, look no further.
43 of 50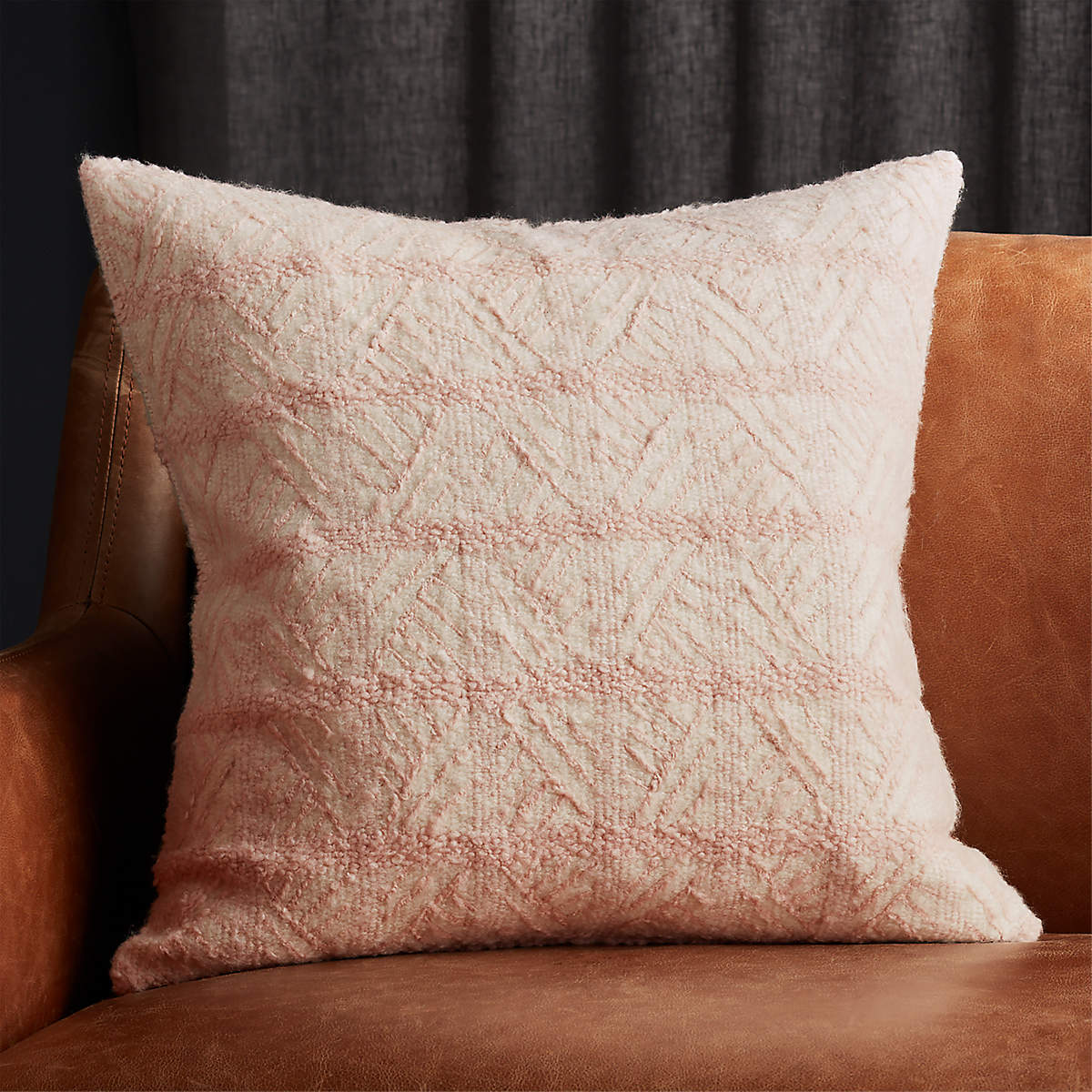 CB2 - 20" TILDA PINK/WHITE CHEVRON PILLOW
This pillow is the perfect combination of Bohemian and subtle, and can work its way into several aesthetics with its versatile blush pink hue. While we especially recommend it for your spring decor refresh, this piece is one that can be kept out year-round.
44 of 50
CB2 - 18"X12" BIA TASSEL MAUVE VELVET PILLOW WITH FEATHER-DOWN INSERT
What has tassels, is upholstered in a cozy and beautiful mauve velvet fabric, and is the perfect addition to add to your spring decor in 2021? This pillow, of course. Offered in several colorways, you can't go wrong with this chic piece that begs to be a part of your living or bedroom.
45 of 50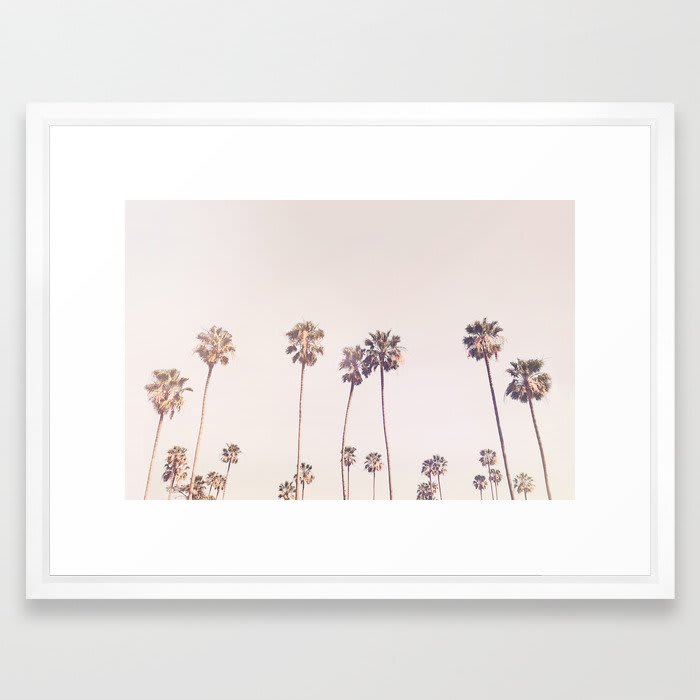 Society6 - Sunny Cali Palm Trees Framed Art Print
Palm trees, pastels, and a beautiful sunset. Is it summer already? Unfortunately, no - but that doesn't mean you can't do your best to manifest it with this artwork for your spring decor! We love pairing this piece with similarly-calming art prints to create the most relaxing gallery wall you'll see in spring 2021.
46 of 50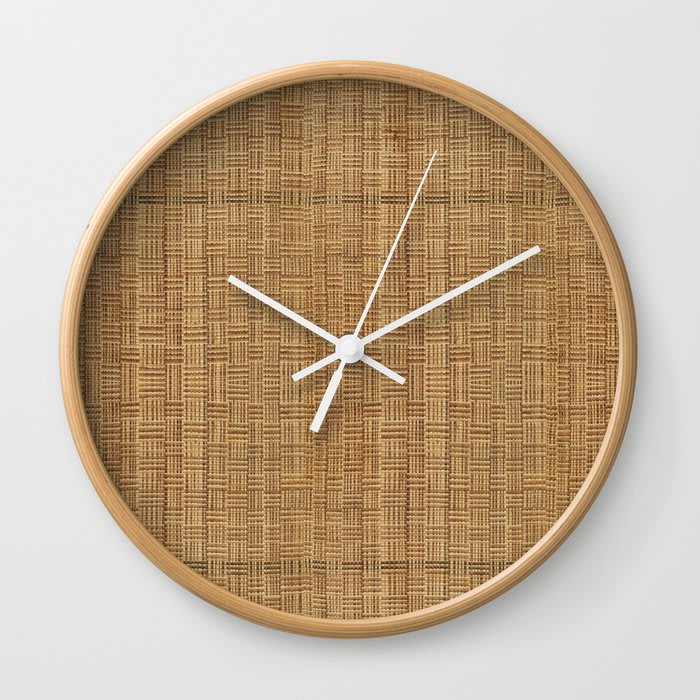 Society6 - Wicker Wall Clock
We couldn't think of a better way to lose track of time than with this wicker wall clock from Society6. If you consider yourself a minimalist, this numberless piece is your new go-to. If you don't, maybe spring 2021 is the perfect time (no pun intended) to declutter your life.
47 of 50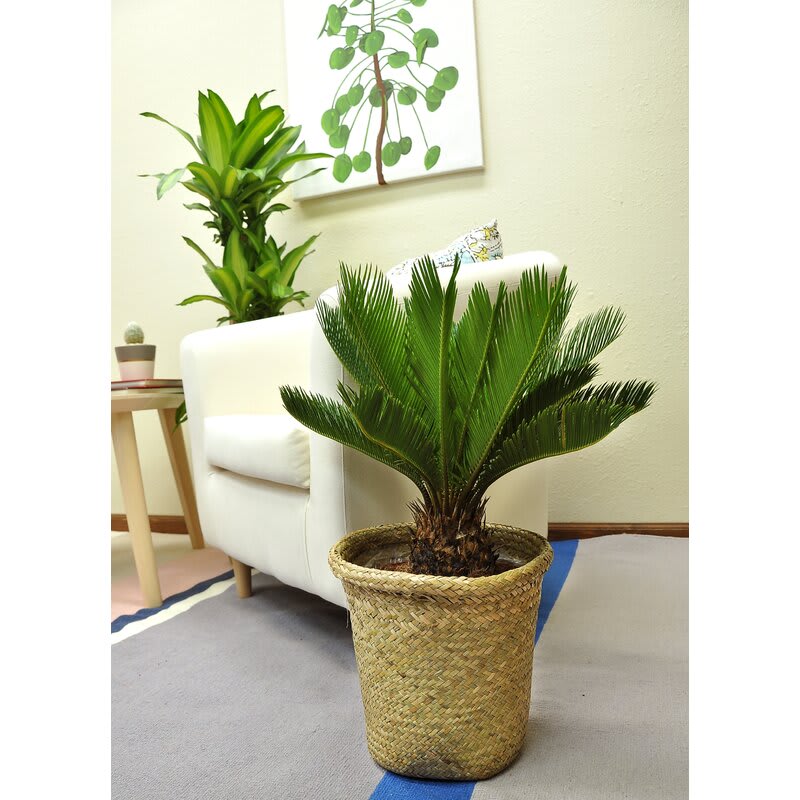 Wayfair - 30" Live Plant in Basket
Bring your spring decor to life - literally - with this beautiful palm plant to breath an effortless warmth into any space. While a live plant might seem like a commitment, it's definitely one we recommend. After all, who needs friends when we have plants?
48 of 50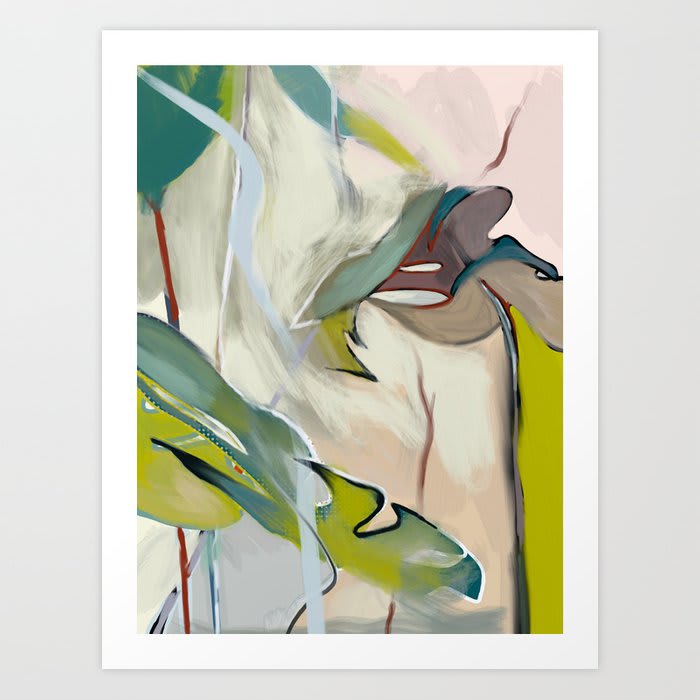 Society6 - Abstract Pastel Leaves Art Print
The vibrancy of this abstract pastel print will bring your spring home decor to life. It comes in a plethora of sizes and has multiple framing options to find the best fit for your home.
49 of 50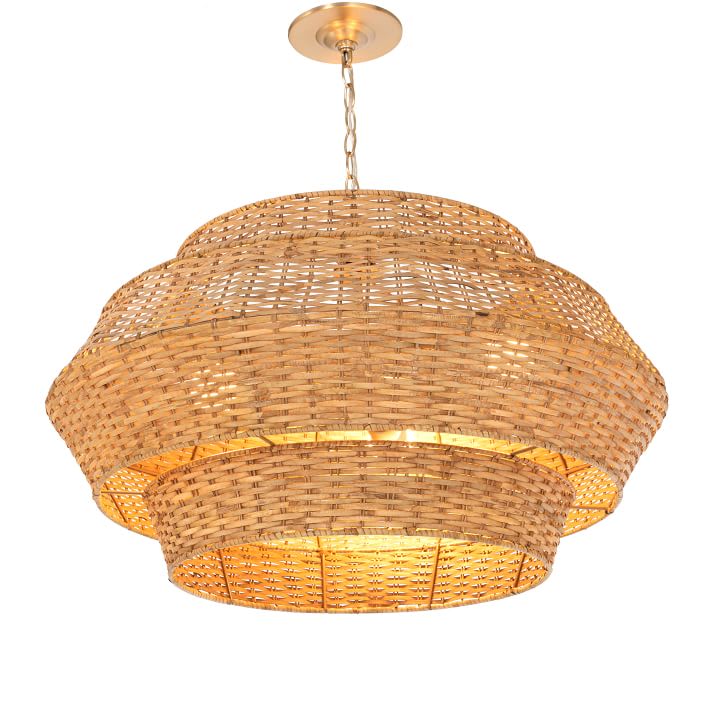 West Elm - Paloma Rattan Pendant
Decor ideas don't have to stop at wall art and tabletop items. Try bringing in a statement piece for the spring with this woven rattan pendant by West Elm. Could there possibly be a more stylish way to illuminate your space?
50 of 50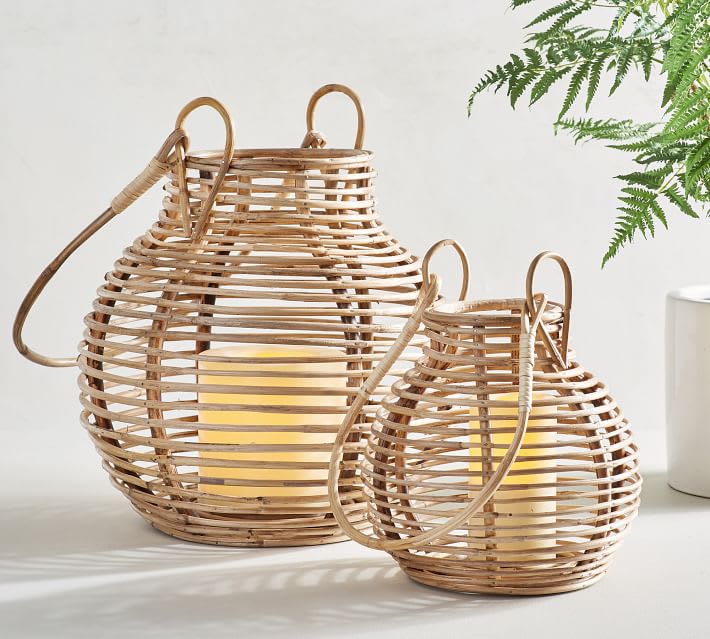 Pottery barn - Riley Rattan Lantern
Talk about the perfect way to bring your outdoor space to completion. Coming in multiple sizes, these make for the perfect centerpiece for the spring. These rattan lanterns are especially perfect for outdoor spaces as they bring the natural aesthetic to a new level!